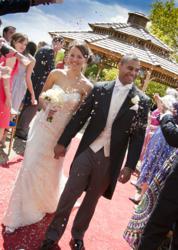 There has been a rise of approximately 30 per cent in enquiries for last-minute weddings taking place within six months
Lane End, Buckinghamshire (PRWEB) November 28, 2012
Last-minute weddings are becoming increasingly popular, reports Buckinghamshire-based wedding venue The Pavilion.
A third of this year's couples at the popular wedding reception venue made their initial enquiry less than five months before the big day.
This statistic was much lower two years ago when only eight per cent of weddings in 2010 enquired within five months of the actual wedding day.
"There has been a rise of approximately 30 per cent in enquiries for last-minute weddings taking place within six months," said Pavilion Sales and Marketing Manager Heni Fourie.
"The Pavilion is a popular wedding venue and generally only a few last-minute dates are available but there are still opportunities to find a deal.
"Most brides-to-be enquiring about short-lead weddings have not set the date at the time of enquiry and are usually flexible in order to get the right deal," he added.
Many websites offering wedding venue services now give venues the opportunity to advertise late-availability and special offers.
This online service educates potential wedding couples about the power of negotiation – provided that they have enough flexibility when agreeing the wedding date.
Most wedding venues also offer a discount for Sunday and mid-week weddings.
The Pavilion offers the following helpful advice to couples looking for last-minute deals at this popular wedding venue.

The earliest start time for a civil ceremony or wedding reception on a Friday is 2pm
The latest finish time for a wedding reception on a Sunday is 10pm, while receptions on Fridays and Saturdays can carry on until midnight
The Pavilion is a dedicated venue for weddings and functions. It is one of five buildings set in 26 acres of landscaped grounds at Lane End Conference Centre.
Heni Fourie said: "There are very few venues that host only weddings – most venues accommodate a mixture of leisure and business guests, meetings, weddings and other events.
"It is important for us here at The Pavilion to keep a healthy balance and respect the requirements of all our guests.
"Business guests do not want to be disturbed by late night wedding receptions and the bridal couple would not appreciate business guests walking through their wedding party."
The layout and design at Lane End allows for optimum exclusivity and privacy in each of the five conference and events buildings.
Four of the five buildings were designed as corporate meeting venues and provide a dedicated environment with fully equipped facilities that are conducive to learning and development.
The Pavilion was created specifically for weddings and is located away from the other four buildings in a peaceful setting with a private terrace and panoramic views of the rolling Chiltern countryside.
Located near High Wycombe, The Pavilion wedding venue is only 30 miles from London and offers convenient access from junctions 4 and 5 of the M40.
Its close proximity to many local villages and towns makes it an ideal location for Christmas parties. The Pavilion is hosting its annual series of Festive Fever Christmas Parties starting in early December and running until December 23 2012.
The Pavilion is also perfect for team building activities. The main building is close to a private piece of land that offers a wide range of facilities designed for team events.
Team building facilities at Lane End include a range of experiential learning activities plus sports facilities such as golf, beach volley ball and five-a-side-football.
The venue offers its guests complementary use of the sauna and steam room with an opportunity to book health and beauty treatments.
This is especially appealing to brides-to-be – the Pavilion offers complementary treatments to all brides that attended one of its wedding open days before making the wedding enquiry.
The next wedding venue open day at The Pavilion will take place on Sunday 17 February 2013 between 10am and 4pm.
If you would like to RSVP for the wedding open day or if you need more information about dedicated training venues then contact The Pavilion Sales and Marketing Manager Heni Fourie on telephone +44 (0) 1494 881171.
Notes for Editors
The Pavilion at Lane End
Church Road
Lane End
Buckinghamshire
HP14 3HH
United Kingdom
Tel: +44 (0)1494 881171
The Pavilion at Lane End is set in 26 acres of rolling Chilterns countryside in Buckinghamshire, just 30 miles from London and licensed to host indoor and outdoor wedding ceremonies.
The venue can accommodate up to 130 guests for a civil ceremony and formal wedding breakfast with up to 180 evening guests.
The Pavilion is one of five buildings at Lane End Conference Centre with access to 104 bedrooms, four lounge and bar areas, four dining rooms, a games room with a lounge and bar, plus plenty of fitness and leisure facilities.