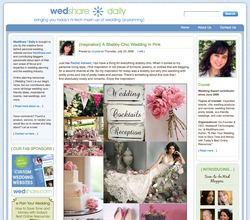 What's unique and special about WedShare Daily is the modern approach we take to wedding planning
San Jose, California (PRWEB) July 31, 2009
Personal wedding website service WedShare.com has just launched WedShare Daily, an entirely new online wedding planning resource with daily fresh content that takes an entirely new approach.
WedShare.com founders Crystal and Jason Melendez, also authors of the modern wedding planning guide "e-Plan Your Wedding" (ePlanYourWedding.com) are featured bloggers on the new online publication. Contributors also include various wedding industry guests and engaged couples who discuss their own wedding planning adventures.
"What's unique and special about WedShare Daily is the modern approach we take to wedding planning," says Crystal Melendez. "A large emphasis is on all the ways you can save time and money by taking advantage of the latest tools and resources. As technology evolves in the wedding planning industry, covering it is more important and fascinating than ever. But at the same time, we never let style and fashion take a back seat."
Topics on WedShare Daily are just as likely to be how to get free Photoshop effects for your wedding website imagery as they are to be inspirational photo boards for a shabby chic wedding in pink. Melendez says that this unique fusion of technology and fashion makes WedShare Daily attractive and entertaining to both brides- and grooms-to-be, while fulfilling two very important needs of today's engaged couple: how to plan your wedding in the most efficient and fun way, and to be inspired by the styles, colors, and fashion that are inherent in today's most beautiful wedding celebrations.
WedShare Daily will continue to grow as its content flows, and the publication's contributors are confident that its popularity and readership will as well.
For more information and to check out the new online publication for yourself, visit daily.wedshare.com. To learn more about online wedding planning and personal wedding websites, stop by wedshare.com.
# # #