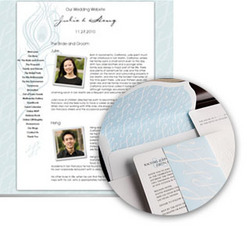 We are really seeing a trend in young couples today being more environmentally responsible
San Jose, California (PRWEB) May 29, 2009
WedShare.com, an online service that allows engaged couples to set up their own personal wedding website, has joined forces with green media company Portovert LLC., publisher of WedVert.com. WedShare and WedVert eco-designer Yoko Chapman have collaborated to provide personal wedding website designs matched with the very first 100% carbon neutral stationery line.
"We are really seeing a trend in young couples today being more environmentally responsible," says WedShare.com president Jason Melendez. "They take the extra time to seek out eco-friendly alternatives when making their wedding planning decisions. It speaks to their character, and we're more than happy to accommodate these choices."
Melendez says WedShare.com had already planned on matching print stationery to its website designs, and that it chose to partner exclusively with WedVert to make its own statement on environmental responsibility.
"The stationery line is beautiful," Melendez says. "It just goes to show that you can make a big impression on your guests and not on the environment."
Portovert LLC., publisher of WedVert.com and the WedVert print magazine, was launched in 2007 as the first wedding resource to focus completely on green efforts, helping to prevent the tons of waste produced annually by weddings. Their "eco-chic" options are geared towards going green without sacrificing the importance of saving cost and a beautiful end result. Both Martha Stewart and the New York Post have described WedVert as a leader in its efforts.
With their first line of matched website designs and stationery now online, WedShare and WedVert also plan to offer free wedding websites as an added bonus to engaged couples, as well as new website and stationery designs coming soon to a green wedding near you.
For more information and to learn more about personal wedding websites, visit: http://www.wedshare.com.
# # #