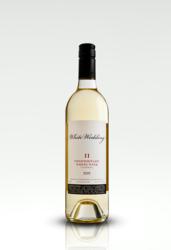 I am very excited to officially release my latest wine, Whie Wedding II
San Francisco, CA (PRWEB) May 25, 2012
Handcrafted and bottled by Derek Rohlffs, Bravium's proprietor and wine maker, White Wedding II is Bravium's newly released proprietary white wine, a unique blend of Sauvignon Blanc and Viognier from Napa and Sonoma.
"I am very excited to officially release my latest wine, White Wedding II. The few who have sampled this bottling early on are echoing my own feelings that it is among the most unique of California white wines," Rohlffs said. "We don't know of anyone else blending these two grapes and making such a singularly balanced and enjoyable wine."
White Wedding is the result of a fortunate blending trial accident as Rohlffs "married" a sample of herbaceous Napa Sauvignon Blanc with aromatic Sonoma Viognier, producing a refreshing and crowd-pleasing wine that sold out within two months of its first release, White Wedding I.
The name White Wedding was inspired by this happy pairing of two white wine grapes. White Wedding is an innovative, multi-vintage blend, hence the use of roman numerals for each bottling, i.e. I and II.
White Wedding II, the second bottling that was released on May 22, is drawing considerable interest from wedding planners, wedding venues, and soon-to-be brides, all of whom find it to be the perfect gift or reception and wedding wine. They also love the 3-inch square blank area on the back label that they can customize to their hearts' content.
"There is no other wine like White Wedding. It is not overtly sweet like the famed Conundrum, nor is it dull and lifeless like so many generic white wine blends from other California appellations," Rohlffs said.
White Wedding II is a high-quality wine offered at the reasonable price point of $18 per bottle. White Wedding II is currently available for purchase in California and can be ordered at whiteweddingwine.com. Ten-percent case order discounts are available.
Sales of White Wedding II, as with all of Bravium's wines, benefit Sip&Give, the charitable giving campaign that Rohlffs founded in 2007. Last year, Sip&Give donated more than $10,000 in cash and wine to its beneficiary charities.
In addition to White Wedding II, Bravium also recently released its red counterpart - Lucky, a proprietary red wine composed of Napa Zinfandel, Sonoma Petite Sirah, Cabernet Sauvignon and Merlot.
Bravium has earned a reputation for creating some of the finest wines available in the San Francisco Bay Area. From its flagship brand, Bravium Pinot Noir and Chardonnay, to its Proprietary White Wedding White and Lucky Red Blends, each of Bravium's wines reflects its specific vineyard origins in a food-friendly style.
For more information about White Wedding II or to buy wine from Bravium, call 650-207-8314, view wine maker Derek Rohlffs at bravium.com, or visit the winery at 995 Ninth St., Treasure Island, San Francisco.
About Bravium
Bravium translates from Latin as "reward, prize or gift" and sums up proprietor and wine maker Derek Rohlffs' feelings about wine - namely that it is a reward for labors, a prized part of mealtime and a gift to be shared. In addition to Bravium's vineyard-designated, Old World-influenced Chardonnay and Pinot Noir, Rohlffs also produces distinctive bottlings where he utilizes a more "hands on" approach: White Wedding Proprietary White Wine, Lucky Proprietary Red Wine, Outlier Pinot Noir, Formidable Merlot, Ramblin' Man Petite Sirah, Midnight Oil Syrah, High Stakes Cabernet Sauvignon and Character Cabernet Sauvignon.