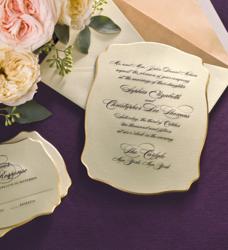 William Arthur's layouts and colors are so timely for brides who want classic yet stylish designs. says Alan Picard of Alan's Invitations in Birmingham, Alabama
WEST KENNEBUNK, MAINE (PRWEB) January 03, 2013
Weddings Volume I, William Arthur's most classic wedding invitations album, debuts in stores nationwide in early January, 2013. The much-anticipated album, a perennial favorite among brides, features William Arthur's best-selling traditional papers and elegantly embossed designs, with updated typesetting, monograms, kalograms and motifs. The collection also features new designs, including gilt-edged, heavyweight cards in custom shapes, painted-edge invitations, letterpress and laser-cut designs and custom, exclusive envelopes.
"I'm so eager to receive this new album," reports Liz Richmond, owner of of the The Paperbag, a stationery store in Allentown, Pennsylvania. "William Arthur always has gorgeous invitations—classic, but with an updated feel. I look forward to sharing this new album with my brides!"
Alan Picard of Alan's Invitations in Birmingham, Alabama, agrees. "William Arthur's layouts and colors are so timely for brides who want classic yet stylish designs. "
The launch of this companion album to Weddings Volume II is being promoted with William Arthur's annual Buy 75/Get 25 Free promotion, which is in effect for all William Arthur and Vera Wang Fine Papers wedding albums January 2 - March 31, 2013.
The new collection can be ordered online and at select stationery retailers nationwide. To find an authorized William Arthur retailer, visit he "Find a Dealer" link at http://www.williamarthur.com.
ABOUT WILLIAM ARTHUR
William Arthur stationery, invitations, announcements and holiday cards are renowned worldwide for beautiful designs, substantial paper stock, rich embellishments and exceptional printing.
For more than 60 years, William Arthur's fine stationery products have helped people turn special moments and once-in-a-lifetime occasions into lasting memories. At their home in West Kennebunk, Maine, their craftspeople keep the techniques and traditions of fine paper and printing alive, combining time-honored print methods with state-of-the-art design and technology. Simply put, they are passionate about creating beautiful stationery. That passion is shared with their customers by providing exquisite products and extraordinary service. View their extensive collection at http://www.williamarthur.com. To find an authorized retailer, select the "Find a Dealer" link.