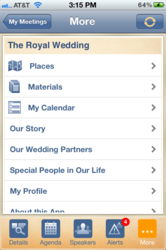 I wish I had this for my wedding. Back then, we still did inserts into the invites. Now, a convenient way to provide a personal usher for each of your wedding guests, via mobile technology
Washington, DC (PRWEB) July 31, 2012
OurWeddingUsher.com wedding mobile app for wedding guests is one more tool for that perfect wedding day. No need for programming skills, but as easy as filling a status update on Facebook. And now, the wedding mobile app is available for planning a brilliant wedding.
With easy to fill in sections on the wedding schedule, directions to the main venues, important people on couple's life, and even alerts if a road closes just before the rehearsal dinner. Even a section on "what to do in town during the wedding weekend". Or a collective photo album, with candid photos, shared by all wedding guests, uploaded into one album, enriched with comments and wishes from all.
The wedding mobile application can be ready in less than an hour, and can be accessed via a URL, or a QR code that can be elegantly inserted on the wedding invites.
"I wish I had this for my wedding. Back then, we still did inserts into the invites. Now, a convenient way to provide a personal usher for each of your wedding guests, via mobile technology" said Ken Burns, External Relations.
For the reception hall, one tap on the mobile app will show on Google maps what is the shortest route there, and when the reception starts, exactly. Who just toasted the couple - the mobile app section on snapshots of "important people on the couple life" gives the answer. There is optional social media integration, so a guest can even connect with the groomsman via Twitter, Linked or Facebook.
An unexpected feature is that wedding vendors have a dedicated section on the wedding mobile app as well, so if a guest really likes that wedding cake, disk jockey, wedding venue decorator, or wedding invitation calligraphy, just one tap on the iPhone will contact the vendor and ask for more information. Or will follow them on Twitter.
For the out of town wedding guests that are looking to get the maximum from the visit, the app has a section for the Top things to do in town during the wedding weekend.
OurWeddingUsher.com was founded on a simple, powerful idea: wedding guests should be able to have the information needed for a brilliant wedding at their fingertips. We want to reinvent what wedding planners can do through the OurWeddingUsher.com mobile platform, made for a new kind of wedding experience and a new kind of interactions.
Learn more about OurWeddingUsher.com, how we're changing the way guests engage with the wedding, interact and communicate and how you can be a part of it.
Both Zwoor Event and Zwoor Survey have free versions available, and will be available for the iPhone, iTouch, iPad and the Android devices. For more information, visit OurWeddingUsher.com.