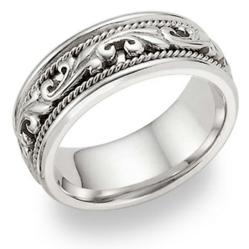 (PRWEB) September 08, 2011
With the recent rise in the price of gold, and an economy that has seen brighter days, couples planning to wed may be wondering how they are going to afford their wedding bands. Added to the cost of the wedding ceremony, reception, and travel, there may be little left over. But according to Apples of Gold, the L.A. based online jeweler, this needn't be cause for concern.
The Apples of Gold commitment to ethical pricing and consistent margins means their prices will always be competitive—but competitive doesn't mean affordable for all. In addition to their more traditional gold wedding bands, Apples of Gold is featuring a variety of styles and choices for couples who are looking to find their perfect wedding bands, but who can't cope with the rising price of gold.
Rather than despair over the rising prices of wedding jewelry, Apples of Gold encourages couples to think creatively about their wedding jewelry so that they can find the pieces that are not only stunning and meaningful, but also affordable. Brides and grooms shouldn't feel guilty about setting budget for wedding jewelry. The amount of money a couple spends on a wedding ring is no measure of their love. The wedding ring is an investment, but it is an investment in a piece of jewelry—not an investment in the marriage or commitment itself.
While at the moment gold is demonstrating its enduring value and allure, it is also at its priciest. If a couple favors gold, a band that contains a higher percentage of an alloy is a money-saving option. 10k and 14k gold still offer a lot of luster, but with a more reasonable price tag than 18k or 24k. Another option is to choose a narrower band. Rings are priced by weight, thus a slightly narrower band will decrease the cost.
Another option is to explore other metals. Titanium and tungsten bands, for example, boast high durability and an everlasting shine. Men especially appreciate their resistance to wear-and-tear, and a price point that is far below gold. And for those who still desire at least a touch of gold, titanium bands can incorporate gold accents. Sterling silver is also a respectable option. Though it has a tendency to tarnish with time, a quick buff with a jewelry cloth keeps it looking its finest.
Though the economy ebbs and flows, the Apples of Gold commitment to delighting their customers with jewelry that is both extraordinary and affordable jewelry does not. Founded in 1999, the company set out to develop a jewelry company that would not only do well, but would do good. Ethical, value-based pricing practices were the foundation. The Apples of Gold commitment to quality in their products and the highest standards for customer service and consumer satisfaction come naturally. In the fine jewelry industry, Apples of Gold is a diamond in the rough.
Contact:
Apples of Gold
Afshin Yaghtin
606 South Hill Street, Suite 717 Los Angeles, Ca 90014
Email: marketing(at)applesofgold(dot)com
http://www.applesofgold.com
###