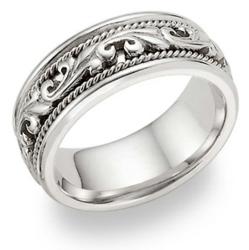 Los Angeles, CA (PRWEB) January 22, 2012
Premier online jewelry company, Apples of Gold, plans to release 300 new wedding band designs this year, as they heave teamed with a new high-end, known wedding manufacturer in New York. Apples of Gold has been known for using classic and vintage styles and designs for all their jewelry which is why all their products extrude a very sophisticated feel.
One of the most important parts of a wedding is the wedding band. It symbolizes unity and is the sole representation that a certain person has already tied the knot or has been wed to someone. Aside from choosing the bridal gown, the wedding venue, or the food for the wedding reception, one of the hardest and most important decisions made during a wedding preparation is which ring the couple will put on each other's fingers. Since that specific ring will be worn until death do them part, the design and look is of utmost importance, it should be timeless.
Timeless, this is what Apples of Gold is all about. Couples can choose from wedding bands made from Rose Gold, White Gold, Yellow Gold, Silver, Cobalt, Platinum, and Titanium. Aside from the quality, design is also one of the signatures of Apples of Gold. There are numerous wedding band designs to choose from such as: braided, paisley, Celtic, Christian, floral, diamond, and narrow bands. Clients can also choose to make their very own Apples of Gold wedding band depending on their personalized designs.
Just like all Apples of Gold products, the new batch or wedding bands released for 2012 still contain the four qualities that make Apples of Gold the one stop shop for all wedding jewelry needs:

Quality. All Apples of Gold wedding bands are made to last a lifetime. All their jewelry is made from the best quality metals and designed with only top quality precious stones and gems.
Diamonds. The diamonds and stones found on any Apples of Gold ring are selected depending on the carat weight, cut, clarity, color, and certification. Although most wedding rings don't really have any gems on them, some couples would prefer to add a little sparkle to their wedding bands.
Metal. One of the most crucial aspects when picking a wedding band is that it has only the best quality of metal. A wedding band will be worn for a lifetime, so it is of utmost importance that a ring will look just like it was bought yesterday. No color fading should ever happen.
Price. Aside from having only the best quality of metal and design, wedding bands at Apples of Gold are also sold at very affordable and reasonable prices, averaging approx. 40% below standard retail prices. This does not mean that you get your rings for cheap, but you get what you pay for, and with Apples of Gold, that means value.
About Apples of Gold
Apples of Gold have been known for creating only the best when it comes to wedding bands and other wedding jewelry. All their jewelry is designed to live up to the modern couple's active lifestyle.
# # #