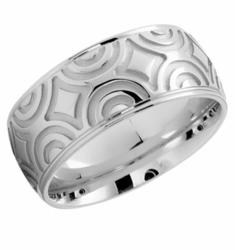 (PRWEB) February 29, 2012
Online jewelry retailer Apples of Gold announced the release of nearly 50 new wedding band designs, adding to their already extensive collection. Apples of Gold plans to incorporate hundreds more wedding bands to their website in the upcoming months in an effort to continually expand their current collection of varied styles.
Purchasing the perfect wedding band is made easy with Apples of Gold new and improved wedding rings selection. Trying to encapsulate the significance of marriage in a small jewelry ring seems like an impossible task, but Apples of Gold is up to the challenge with their premium quality bands and artisan-like designs. Their new addition of wedding band styles ensures that every bride and groom can find just the right ring to symbolize their marriage.
Making a wedding ring timeless is another challenge. No couple wants to purchase rings they love at the moment but feel embarrassed by just a year later. Fashion trends are difficult to navigate, but Apples of Gold takes their expertise and puts it to the customer's advantage by providing the best blend of fashion-forward ideas with classic designs. The attention and care put into selecting only the best wedding bands means couples can be confident that their purchase will be as timeless as their love.
Among the new collection of wedding bands from Apples of Gold is the 14K White Gold Floral Wedding Band. This 8mm wide ring is a pinnacle of craftsmanship, complete with detailed carving over the band's center. It features a simple yet refined leaf pattern that overlaps the middle of the ring and encircles it with the lush pattern. The edges are rounded to keep a natural flow to the ring, and the white gold is completely buffed on all surfaces for a high shine. This ring is just one example of the fantastic new addition to the Apples of Gold wedding ring collection.
The addition of these 50 new wedding bands and the promise of more designs to come is a blessing to brides and grooms who want style and substance in their rings. Apples of Gold gives a high quality guarantee with each of their rings, and with their prices nearly 40 percent below standard retail, couples are bound to find their perfect match.
###