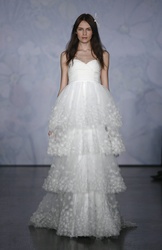 No matter what venue you choose to hold your nuptials in, you can still achieve that glamorous yet natural look with makeup
LOS ANGELES (PRWEB) January 15, 2008
To help couples get inspired for their own nuptials, WeddingChannel.com recruited the most sought-after pros, who have worked with A-listers like Tom Cruise, Christina Aguilera, Gwen Stefani, Kevin Costner, and Nicole Kidman, to give an insider's look at how celebrity weddings are brought to life.
WeddingChannel.com insiders weigh in on the celebrity wedding trends of 2008:
Dresses with Feminine Flourishes
Inspired by the striking tiers in "Desperate Housewives" actress Eva Longoria's Angel Sanchez wedding dress, brides tying the knot in 2008 will be donning wedding dresses with a flurry of feminine flowers and sophisticated tiers.
"Whether it was kept understated or embraced wholeheartedly, flowers and tiers were seen all over the spring 2008 wedding runway shows and in the collections of Reem Acra, Monique Lhuillier, and Claire Pettibone," says WeddingChannel.com fashion expert and bridal institution Kleinfeld Bridal co-owner Mara Urshel.
Unique Wedding Locations
Nothing makes more of an impact than the location of your wedding, and an Art-Deco backdrop is just the ticket. Get on board with what The Oprah Winfrey Show correspondent Lisa Ling and Paul Song had in mind when they got married at Union Station in Los Angeles. From Grand Central station in New York City to Philadelphia's 30th Street Station to Chicago Union Station, these historic locales are perfect for the bride who loves the grandeur of an old-world train station.
"Rarely does a location offer the nostalgic ambience one finds at a train station," says WeddingChannel.com's style expert and celebrity wedding planner Yifat Oren. "Train stations are grand and elegant all at once. Crystal chandeliers, wood-paneled walls, and antique marble can be your inspiration for a classic, retro wedding celebration."
Headlining Acts
Hiring a DJ or a band is a no-brainer, but for brides looking to really make a statement and who happen to have the connections (and the cash), why not splurge and have an A-list entertainer perform at the wedding? Whether your tastes range from Prince to Mariah Carey to Fall Out Boy, entertainment marketing firms like New York-based Platinum Rye can help brides and grooms book a headlining act.
And if your future fiance happens to be musically talented, like Katherine Heigl's new husband Josh Kelley, there's nothing more romantic than having them compose a song just for you.
City Hall Chic
For brides who start breaking out in hives at the thought of 13 months of wedding planning, a low-key city hall wedding may just be the perfect solution. Never one to bask in the limelight, "Grey's Anatomy" star Ellen Pompeo and music producer Chris Ivery scrapped the paparazzi madness and had a private civil ceremony at City Hall in New York City. With an off-the-rack dress and loved one by your side, a down-to-earth wedding can sometimes be the most intimate affair of all.
"No matter what venue you choose to hold your nuptials in, you can still achieve that glamorous yet natural look with makeup," says WeddingChannel.com beauty expert and five-time Emmy Award winner Eve Pearl. "A smokey eye is all you need, topped off with a little gold shimmer to soften and open up the eye."
Top Chef: Wedding Edition
If you're a hardcore foodie, then having your favorite five-star restaurant cater your wedding instead of a traditional caterer is a must. For their December nuptials, movie mogul Harvey Weinstein and designer Georgina Chapman had Nobu and Cipriani serve delicacies like caviar and truffle risotto to their A-list guests.
Oren suggests, "If there's a special restaurant you always frequent or even if you popped the question there, there's nothing more romantic than having them serve your favorite dish at your wedding."
Do-Good Gifts
Over the years, charity registries have continued to become increasingly popular among celebrities and non-celebrities, from Nicole Kidman and Keith Urban, to Billy Joel and Katie Lee Joel, to Nikki Taylor and Burney Lamar. The newest boldface names to register for a charity in lieu of wedding gifts include Sarah Gore and Bill Lee, and Harvey Weinstein and Georgina Chapman.
"Keep in mind that how you spread the news about your wedding registry matters -- no matter if you're registered for a charity or something more traditional," adds WeddingChannel.com etiquette expert Peggy Post. "You definitely don't want to include it with your wedding invitation since that puts the emphasis on the gift. So include it on your wedding website, or enlist your family and bridal attendants to spread the word the old-fashioned way: word of mouth."
About WeddingChannel.com
WeddingChannel.com is the number one wedding and gift registry website, offering comprehensive wedding planning content, interactive tools, a panel of experts, and a central location for couples to manage their gift registries. From beauty to decor to fashion, WeddingChannel.com contributors include the most sought-after wedding professionals, such as celebrity wedding planner Yifat Oren, five-time Emmy Award winning makeup artist Eve Pearl, celebrity wedding photographer Robert Evans and Kleinfeld Bridal co-owner Mara Urshel.
WeddingChannel.com is based in Los Angeles and is a part of The Knot Inc. (NASDAQ: KNOT) lifestage media network.
NOTE TO EDITORS: For more celebrity trend ideas, check out WeddingChannel.com. To interview an expert or executive from WeddingChannel.com, or to obtain statistics, tips, checklists or high-resolution photos, contact Jacalyn Lee, Public Relations Manager at 212.515.1598 or jlee@weddingchannel.com.