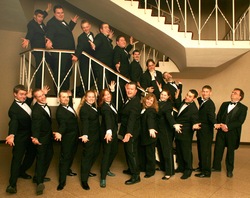 Even though charitable giving has gone down for other small businesses, we plan to give as much or more this year than we have in the past
Duluth, MN (PRWEB) March 19, 2009
Many small businesses across the country have reduced staff, charitable giving, and more due to the current economic environment. Not at Pro Sound & Light Show Disc Jockeys, a DJ entertainment service in Minnesota and Wisconsin. "We are choosing to focus on the positive aspects that our business can provide right now," states Tom Kenemore, Chief Entertainment Officer, "Our business is in a unique position to provide stress relief by getting clients to dance, cut loose and have fun rather than thinking about the economy or money challenges." Spending quality time with family and friends at a wedding, birthday party or other milestone event can provide a distraction from economic difficulties.
"In the last few months we have noticed an increase in DJ applicants that are more mature and experienced. We are very pleased with the group of talented people that we are working with now, but we still need to add more DJs," Kenemore continues. "Great staff equals happy clients". In 2008, over 88% of Pro Sound & Light Show's surveyed clients said they would use the company's DJ services again. That number climbs to 100% for Pro Sound's high end Diamond Division Disc Jockeys.
"Our disc jockey sales are also doing well," says Kenemore. "January was our 2nd highest DJ sales month in the last 10 years." This year, brides and grooms are more cost conscious and are looking for a great value in all aspects of their wedding planning. Bridal couples in Minnesota and Wisconsin can contact Pro Sound & Light Show Weddings for a free Reception Planner valued at $20.
March was Minnesota Food Shelf month and for the 3rd year in a row, Pro Sound & Light Show and Absolute Celebrations Disc Jockeys donated $20 for every event reserved. The donations went directly to the Second Harvest and Lincoln Park Community Church Food Shelves to help feed hungry families. "Even though charitable giving has gone down for other small businesses, we plan to give as much or more this year than we have in the past," states Kenemore. "Our staff was happy to make a difference by donating $750 to these food shelves in March, 2009." Since 2007, Pro Sound & Light Show has donated $1950 in cash to local food shelves during their March campaigns.
About Pro Sound & Light Show & Absolute Celebrations:
Pro Sound & Light Show and Absolute Celebrations provide disc jockey (DJ) entertainment services for weddings and ceremonies, school and teen dances, company, office and holiday parties, class reunions, anniversaries, graduations, birthdays, Bar and Bat Mitzvahs, banquets and dinners, picnics and karaoke events. Since 1990, Pro Sound & Light Show Disc Jockeys have performed at over 12,500 special events in cities like Minneapolis, St. Paul, Duluth, Superior, St. Cloud, Brainerd, Eau Claire, Rochester, Mankato, Little Falls, Detroit Lakes, Bemidji, Grand Rapids, Hibbing, Virginia, International Falls, Ashland, and Ironwood throughout Minnesota, Wisconsin and Michigan's Upper Peninsula.
# # #