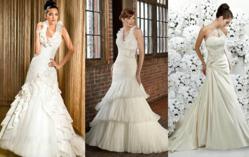 The online store is providing 25%-50% discount on cheap bridesmaid dresses and this offer is extended till the end of November.
(PRWEB) November 27, 2012
Aimell.com, one of the premier online destinations for cheap wedding dresses now increases the discount offer for its bridesmaid collection till the end of November.
Cheap bridesmaid dresses have got cheaper with 25% to 50% discount on the items. This discount facility is available since a long time now and the administration of the company has decided to extend the offer till November 30 witnessing excellent response among the buyers.
Mr. Abraham, the owner of the company says, "We are elated with the kind of response our collection of cheap bridesmaid dresses is generating. People are just loving to purchase immaculate collections at unbelievably low price. Considering this response and also the upcoming festive season, we have decided to continue this discount offer till the end of this month. We are even discussing about extending the offer even further or introducing something more exciting in the coming month."
Aimell.com, as one of the leading online destinations for bridesmaid dresses and custom-made wedding dresses, keeps on offering something exciting to its customers. The experienced production and design team of the company makes sure that the collection ranges are among the very best so that the buyers get lured such amazing collections are immaculately affordable price.
"It is our business objective to offer great dresses at a great price. It is a perfect place if you are looking for the cheap wedding dresses or bridesmaid collection. In fact, we have immaculate collection of cheap bridesmaid dresses and that too with huge discount up to 50%. This is definitely a Christmas bonanza and a treat for those who are planning to wear something special for their friend's wedding, without spending huge money."
The online store also features reviews of certain dresses, which is beneficial for the buyers. Apart from the discount factor, the buyers have a reason to be happy as they can be sure about the dress before buying it. They can even contact live online support team for any query related to the featured dress items.
Kiyara recently purchased a bridesmaid dress from the online store and she said, " I am very happy that Aimell.com provided me a lovely dress with 40% discount. I am sure that wearing this dress will make me look beautiful."
About the company: Aimell.com is an online store of cheap wedding dresses along with collections of bridesmaid dresses, flower girl dresses, evening dresses and accessories. They provide huge collection of attires and accessories at attractive discounted rate. Check the latest offer by visiting the site http://www.aimell.com.