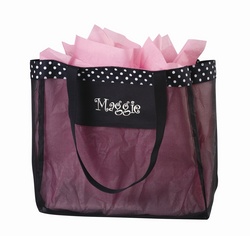 As it arrives to recipients, the invitation sets the tone and expectations for the wedding itself.
GREENSBORO, N.C. (PRWEB) May 22, 2008
"Whether a couple is planning a modern chic or old-school glamour wedding, black and white serves as the perfect backdrop, especially when paired with unexpected patterns and textures, such as damask or polka dot, and hints of color to add visual interest," says Kathleen Kraus, chief merchandising director and trend expert for Exclusively Weddings.
"While black and white weddings are timeless, this color palette gets an instant update as brides choose to add splashes of vibrant accent colors, such as bright pink, deep red or lime green, especially to flower arrangements, favors, ribbons and napkins," continues Kraus.
Wedding Invitations Set the Stage
"The wedding invitation is one of the most important and carefully considered elements of a wedding," notes Kraus. "As it arrives to recipients, the invitation sets the tone and expectations for the wedding itself." Favorites include:
The elegant and stylish Garden Party invitation in black and white, featuring a delicate scrolling black foil flower and vine border on a bright white heavy weight cardstock; and An Exclusively Weddings exclusive, the Sweet Hearts wedding invitation features twin die cut hearts on a bright white folding invitation to reveal the wedding color theme, signifying the romance of the union. Picture Perfect Moments
"At every wedding, there are certain moments that a bride and groom especially anticipate and these, of course, are often the most remembered by guests and photographed for posterity," remarks Kraus. "That's why it's so important to carefully consider items such as the unity candle, toasting flutes, and cake servers."
A timeless and personal addition to the ceremony, Black and White Unity Candles feature a single initial, names and wedding date on the central pillar candle while the elegant taper candles include a single initial and first names. There's no better way to make a statement with a first toast than with hand-decorated Champagne Toasting Flutes featuring sparkling Austrian Crystals in black/clear with tiny silver accents, an Exclusively Weddings design. The matching Serving Set is just as stunning and is destined to become a family heirloom. Make It Memorable: Small Details Make Lasting Impressions
"Just as the invitations are a wedding's first impression, it's often the little details that make a memorable lasting impression, such as a thoughtful favor or gift for a member of the wedding party," observes Kraus. "And, to make the presentation complete, the packaging should be just as special as the contents."
"It's always a welcoming surprise when couples create inspired favors reflecting their unique personalities or wedding theme by choosing a sentimental or unexpected item, such as regional favorites, fortune cookies, a small bag of mixed spices and a favorite apple pie recipe, wildflower seeds or a small ornament placed inside a Colorful Two-Piece Favor Box or a Quilted Off-White Wedding Favor Fox with a coordinating ribbon."
Wedding party gifts are an important way of giving thanks to a bride and groom's closest friends, and custom packaging makes the presentation complete:
The Exclusively Weddings' designed Polka Dot Black Mesh Tote with embroidered name and coordinating color tissue is a great option for nearly any present, and is perfect for holding everything a bridesmaid needs for the wedding day and beyond. Custom designed black and white Thank You Gift Bags and coordinating Thank You Cards for the wedding party show them how special they are. From wedding invitations to toasting flutes to favors, Exclusively Weddings is a leading resource for savvy brides-to-be.
About Exclusively Weddings
In business since 1992, Exclusively Weddings (http://www.eweddings.com) is a multi-channel retailer of wedding favors, accessories, invitations, and attendants' gifts. Reaching brides-to-be via its 140-page catalog and Web site, Exclusively Weddings offers nearly 1,000 items geared towards the perfect wedding day, including top brands. The company distinguishes itself with the innovative creation of its own "EW Design" products, such as The Organized Bride® Collection, personalized bridesmaids' totes, wedding party gift bags, and more.
MULTIMEDIA GALLERY http://www.businesswire.com/cgi-bin/mmg.cgi?eid=5682683