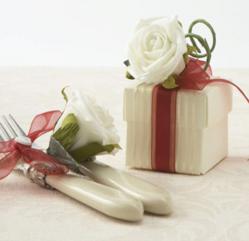 We have seen an increase in sales of wedding favours such as lottery tickets, candles and soap. We have increased the number of options available for these products as well as widening our range of wedding favours overall.
United Kingdom (PRWEB) February 15, 2012
The tradition of giving gifts as a gesture of appreciation from the bride and groom is believed to have started centuries ago by aristocrats in Europe. Back then, wedding favours such as sugar cubes were given as gifts in favour boxes but this tradition soon changed when sugared almonds became the norm. Typically, 5 almonds are given to represent fertility, longevity, wealth, health and happiness to the newly married couple.
This latest data, which was compiled from a nationwide poll of over 5,000 brides, shows that the tradition is changing once again as brides look to put their own unique stamp on their big day. The survey shows large changes in wedding favour tastes compared to those of brides who were married in 2009. Traditional favours such as chocolates and sugared almonds have seen a sharp decrease in popularity compared with 2 years earlier with brides instead opting to buy a wider range of unique wedding favours such as candles, seeds, lottery tickets and even soap.
The shift in wedding favour choices may have been influenced by some rather interesting high profile celebrity selections in recent years. One example was Avril Lavigne and her new hubby, Deryck Whibley who gave guests personalised guitar plectrums as wedding favours with the words "Deryck picked Avril" and "Avril picked Deryck".
Personalised wedding favours is another area where the company has seen growth in recent times which belies the fact that brides are also looking to save money on their favours. The report showed that the number of brides spending more than £3 on wedding favours per guest has decreased by 24% over the past couple of years while 33% of brides said they will spend between £1 and £1.49 per guest.

Number of brides giving chocolate wedding favours: Down 24%
Number of brides giving traditional almond wedding favours: Down 61%
Number of brides spending more than £3 on wedding favours per guest: Down 24%.
Percentage of brides spending between £1 and £1.49 per guest: 33%
To cope with the new demand for wedding favours, Confetti.co.uk have increased their range to cater for the wider market. Shilpa Bhojani, Buying Manager of the company said "We have seen an increase in sales of wedding favours such as lottery tickets, candles and soap. We have increased the number of options available for these products as well as widening our range of wedding favours overall."
###