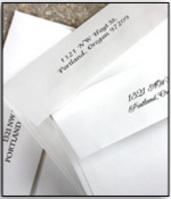 There was a huge demand for return address printing on save the date magnet envelopes so New and Blue rose to the occasion
Portland, OR (PRWEB) July 24, 2008
Save the date magnets are fast becoming couples' top choice for announcing their wedding date. Along with growing popularity comes ever-changing styles and trends. New and Blue Enterprises, Inc. has been designing and selling wedding announcements for six years and has created tens of thousands of save the date magnets and cards for couples around the world. Find out more about the innovative styles and services New and Blue is offering for the 2008-09 wedding season.
What's new for save the date magnets?
Bold: new color-splashed photo save-the-dates include bold red stripes and multi-colored dots.
Classic: romantic new black-and-white photo magnets make wonderful keepsakes for friends and family.
Whimsical: a variety of new magnets feature humorous and whimsical themes, like pigs flying and skywriters spelling out the big news.
Romantic: a picture of a couple's feet dancing on the beach evokes warmth and love.
What's new for save the date cards?
Innovative: many new cards feature unique and attractive color combinations like orange and blue or red and blue. Cards also come in bold monotone themes like pink, red, and cobalt blue.
Personalized: a variety of new cards feature photos and monograms so couples can add a personal touch to their big news.
Stylized: eye-catching patterns of stylized flowers in grays, pinks, oranges, greens, and blues adorn many of the new card designs.
New and Blue now offers convenient, affordable return address printing for save-the-date magnets and cards. "There was a huge demand for return address printing on save the date magnet envelopes so New and Blue rose to the occasion," says Deah Paulson of New and Blue's web development team. A variety of font and styles are available. Return addresses can include up to 4 lines of text and are printed on the envelope flap
To see these designs and more, visit http://www.savethedatemagnet.com and http://www.save-the-date-cards.com.
###