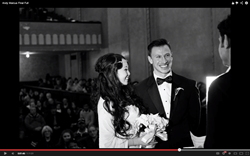 B&H Wedding Guide Stages Ceremony and Reception with Wedding Photographer Andy Marcus
New York, NY (PRWEB) April 23, 2013
Wedding photography is more than snapping pictures at a party. From the time the contract is signed until the time a photographer delivers the finished product, there is a regimented process that must be followed in order to guarantee the job is completed to the satisfaction of the client, not to mention the photographers own sense of professional satisfaction.
To better understand the intricacies of the art and craft of taking wedding photographs successfully, B&H Photo Video Pro Audio is pleased to announce The B&H Wedding Photography Guide, a multi-chapter, illustrated guide that covers numerous touch points concerning the gear, the logistics and the frequently shifting variables that will encounter while photographing a wedding.
B&H Wedding Guide includes separate chapters on how to choose the best photo and video cameras, lenses and lighting systems based on performance, flexibility, trans-portability and other attributes that make them the tools of choice for the demands of wedding shooters. The Guide also delves into the realities of preparing for and working through the multiple challenges of documenting the "Big Day," beginning at the bride's home, moving on to the chapel, the ceremony and straight on to the moment the newlyweds bid fare-thee-well to friends and family when the festivities wind down.
Featured articles include  Essential Gear for Savvy Wedding Pros, Wedding Photography in Motion, Video Workflow, Nailing the Important Shots, Audio for Video and Live Sound, Working with a Photo Assistant, and more. 
In this B&H Event Space video, professional wedding photographer Andy Marcus gives an in-depth run-through of his approach to photographing a wedding. During the staged wedding ceremony, Marcus gives real-time commentary about how he photographs each aspect of the day's events, from the preparation stage to the end of the wedding.
About B&H Photo Video
As the world's largest source of photography, video and audio equipment, B&H Photo-Video is known worldwide for their attentive, knowledgeable sales force, and excellent customer service, including fast, reliable shipping. Visitors to the website can access a variety of enlightening articles and educational videos. B&H has been satisfying customers worldwide for over 35 years.