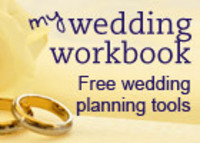 It's very common for weddings to go over budget, which is probably why so many brides worry about it
Denver, CO (Vocus) October 23, 2010
Staying on budget and keeping guests happy are the two biggest concerns of brides who are planning a wedding in 2010, according to research conducted by My Wedding Workbook, the next-generation online wedding planning system.
Almost 70% of all brides surveyed responded that they were concerned about staying within their wedding budget, while another 47% said that making sure their guests were enjoying themselves was also a big concern.
"It's very common for weddings to go over budget, which is probably why so many brides worry about it," says Jeff Kear, owner of My Wedding Workbook. "There's so much pressure on couples to create the perfect day and please their guests that it's fairly common for the couple to start splurging and overspending on things that they probably don't need."
One way that brides can more easily stay within their budget is to break down their wedding budget into categories and subcategories (such as reception food, reception venue, reception decor, etc.) and then take their budget printout with them when they are shopping or speaking with vendors. This way they have all their information on hand and know exactly what they have to spend on each item.
And, when temptation gets the best of them and they decide to go over budget on a particular item, they should review their budget and make cuts elsewhere to ensure they don't spend beyond their overall budget number. It might be a bit painful, but it's better than going into debt or maxing out a credit card.
As for pleasing guests, most guests tend to be happy when they see the bride and groom happy. "This day is about the couple, not the guests," says Kear. "Plus most guests are expecting a wedding that reflects the personalities of the bride and groom and the love they have for each other, so if their wedding day makes them happy, it will likely make their guests happy, too. A big smile on the wedded couple's faces is about all guests need to have a great time."
Other top concerns for brides are managing all the details involved in the wedding planning process (44%) and getting the ceremony and reception decor just right (35%).
"Wedding planning can be pretty intimidating for many brides, mostly because none of them have planned an event of this scale before," says Kear. "Having the right information, tools and advisors can go a long ways in ensuring all the details are covered and providing peace of mind. It just takes a little investigating to find the guidance and resources they need to plan their big day."
About My Wedding Workbook
My Wedding Workbook offers a complete Web-based system that provides brides with a step-by-step process for planning every aspect of their wedding, from the wedding budget to guest lists, RSVPs, vendors, venues, calendars and more. Included in this comprehensive wedding planning system are a personal wedding website builder, ideas and inspiration board, worksheets, wedding checklists, suggested tasks and more.
# # #