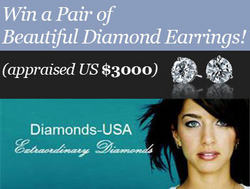 New York, NY (PRWEB) October 11, 2007 - Diamonds-
USA.com is hosting their first ever Wedding Proposal Competition. The best selection of wedding proposals will be published on the Diamonds-USA.com website. The winner will receive a pair of Genuine Diamond Earrings that retail for $3,000.
The marriage proposals will be judged based on the criteria of originality, creativity and warmth. Diamonds-USA.com wants to hear about the lengths you or a loved one went through to pop the question. Was it crazy? Was it funny? Or was it old-fashioned and romantic? All proposal stories must be submitted to the website by the deadline of 11/30/2007 in order to be eligible. All proposal stories must be original works and not published on any other place prior to the contest.
"We love supplying of meaningful diamonds to couples in love and when they come back to us for engagement rings after the marriage proposal, the best part of my day is hearing all of great proposal ideas that our customer's have thought of. For this holiday season we wanted to reward some of the more creative and innovative romantics out there. Hopefully these ideas will inspire others, to make this holiday season romantic and special. The whole team at Diamonds-USA is very excited to read all of the marriage proposal stories being sent in," said David Braverman, President of Diamonds-USA.
Wedding proposal story submissions can be made at http://www.diamonds-shop.com/d-usa/
Selected stories will be published on the Diamonds-USA.com website for contestants to show their loved ones. The winner will receive a gorgeous pair of diamond earrings worth $3000, to place under the tree for someone special!
About Diamonds-USA:
Diamonds USA.com Inc. is the U.S.A. Diamonds and Jewelry sales division of the David Braverman Diamond Cutting Industry. Diamonds-USA.com has a wide variety of diamond jewelry, including diamond earrings, engagement rings, three stone diamond rings, diamond pendants and more. David Braverman is a third generation diamond and jewelry industry professional with more than twenty three years experience in the trade.
###