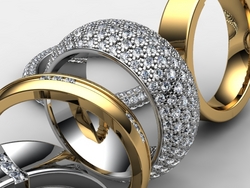 the largest, most comprehensive selection of Wedding Rings available in any market place
(PRWEB) September 18, 2010
12 months of wedding ring design work, 3 months of programming, coding & scripting, 1 month of system design and a heavy investment in computer technology, CNC milling machines and rapid-prototyping systems have preceded the launch of the all new DiamondGeezer.com wedding ring collection at http://www.diamondgeezer.com/wedding-rings.
With over 30,000 wedding ring designs and design options to explore, it is believed that this is the largest, most comprehensive selection of wedding rings available in any market place, online or in any traditional shop. This is also possibly the largest and most exciting collection of designer wedding rings ever presented, anywhere at any time.
The simple online navigation system, months in the making, ensures that potential customers can explore the vast range without perplexity or confusion and every detail of each ring is described or illustrated. From a commercial view point at a time of volatile bullion markets this intelligent website tracks and reflects the rise and fall of precious metals reducing the exposure to bullion market spikes and that means margins are better controlled, can be tighter which means better value for the customer.
The manufacturing technology behind the service allows each wedding ring to be especially produced to meet client needs very quickly, typically 7 working days. Engineering processes start each job however it is the traditional skills of the DiamondGeezer.com craftsmen & artisans that add the 'love' and make each wedding ring special. The process, developed in house by DiamondGeezer.com, is manufacturing efficiency but also means that each client will be the first and only person to ever put on and wear their wedding rings.
# # #