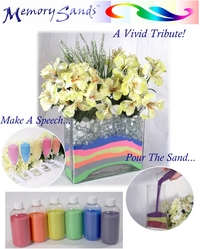 Every time you look at the completed vase on your mantle or bookshelf you'll be reminded of each person who shared that special day!
Columbia, MD (PRWEB) August 22, 2007
Catering to a hot new trend in unique wedding ceremony accessories and gifts http://www.MemorySands.com introduces the new Memory Sands™ hand blown glass vase kit with a beautiful variety of color sand selections that make any event extra special with a lasting visual memento. This celebration keepsake comes conveniently packaged in an exclusive set with glass vase, six (6) color coordinated bottles of vibrant Tribute Sand, linen style name tags and ribbons, easy directions and design ideas, plus a convenient carry tote to bring home the completed vase after the event.
In addition to classy color schemes of Bermuda Sands, Painted Desert, Pastel Art and Rainbow Beach, Memory Sands™ Tribute Sand bottles can be individually selected for the perfect color coordination with event decoration. In fact, the multi-faceted and functional Memory Sands™ kit can also be used to create custom table centerpiece designs with added glass beads, flowers and other decorations.
Replacing the traditional Unity Candle, couples pour or blend layers of sand into a glass vase symbolizing the bringing together of two lives into one. Memory Sands™ goes beyond this simple two color expression by providing additional color coordinated sands for family and dear friends to share the experience, all in one easy package. Guests make a speech and pour a new color layer, resulting in a vivid gradation sand art sculpture with each shade forever representing loved ones who spoke.
"Every time you look at the completed vase on your mantle or bookshelf you'll be reminded of each person who shared that special day!" says Robert Neal Marshall, CEO of Memory Sands™. "Each layer of sand has a significant emotional meaning."
This exciting new product is perfect for not only prospective couples, but for Wedding Planners, Bridal Shops, Event Specialists, and Consultants who want to offer their clients something new and refreshing as part of their celebration.
What makes the Memory Sands™ kit so popular and well-designed is that this Sand & Hand Blown Glass kit is also perfect for Receptions, Anniversaries, Birthdays, Showers, Bar & Bat Mitzvahs, Retirement Parties, Corporate Events; any gathering where people will speak and make a tribute to the guest(s) of honor.
Memory Sands™ is the creation of actor/director/playwright Robert Neal Marshall who is also CEO of Singular Selections E-Stores and Transportation Hobby Collectibles Online.
Memory Sands™ Complete Tribute Kits are available for order now. You can find new product at selected Wedding and Event websites or directly from http://www.MemorySands.com. Ask your Wedding Planner for the Memory Sands™ Ceremony set. Wholesale inquiries are welcome and a comprehensive Drop Ship package is offered for re-sellers.
For more information, visit the website http://www.MemorySands.com or call 800-372-7299.
Contact:
Robert Neal Marshall, CEO/Marketing
800-372-7299
Memory Sands™
http://www.MemorySands.com - Singular Selections E-Stores
###