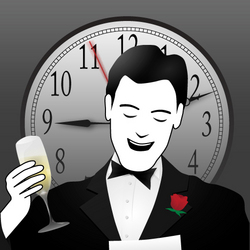 Wedding Speechstake is a wonderful conversation starter and ice breaker at a table where some of the guests might not know each other.
Athlone, Ireland (PRWEB) November 10, 2010
The idea behind Wedding Speechstake is very straightforward. To play, an iPhone is passed around a table at a wedding reception so each guest can guess the duration of the wedding speeches. The App is then used to time the speeches and to chart the fortunes of each player's guess as time elapses. When the speeches conclude, the person whose guess is closest to the actual time taken wins the Speechstake.
"A Wedding Speechstake is a particularly popular custom at Irish weddings," says Moonswing founder Tom Tierney. "As well as being great fun for a table of friends, it is also a wonderful conversation starter and ice breaker at a table where some of the guests might not know each other. We're very happy to bring it to the iPhone and have used many of the device's advanced features to make it as colorful and as much fun as possible. For example, if a player chooses, they can simply shake the iPhone to be given a random guess."
There is no upper limit to the number of people who can play a Wedding Speechstake, but it is better played as a bit of fun around individual tables, rather than becoming a larger event that dominates the actual business of the day. It is customary to time all the speeches (that is, from the first to the last word spoken), though it might also be decided to just time the Best Man's speech. Everybody at the table simply needs to be in agreement about what is being timed before the guessing begins. Contestants might decide to award a prize to the person with the closest time, or a forfeit to the person with the least accurate guess.
Wedding Speechstake's stylish interface makes it very easy for contestants to enter their names and their guesses. Once the Speechstake is in progress, the position of contestants can either be viewed on a constantly updating leaderboard, or on an animated screen where the contestants' names change size and color depending on their position in the contest. Wedding Speechstake makes it possible to add new names and guesses once the timer has started, though changing an existing guess when the speeches are in progress is definitely considered bad form!
Wedding Speechstake costs $1.99 and is available worldwide exclusively through the iTunes App Store in the Entertainment category.
About Moonswing:
Moonswing is a limited company founded by Tom Tierney and located in Athlone, Ireland. Wedding Speechstake is Moonswing's second iPhone app, following on from the success of Bet Settler, which reached No. 15 in the Paid Sports App category in the UK and No. 2 in the same category in Ireland.
###