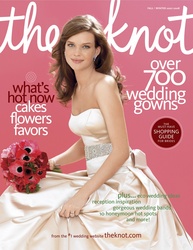 Whether it's a bridal shower that gives back or an eco-friendly fete, couples are raising the bar and infusing substance with style when it comes to planning their wedding day details.
NEW YORK (PRWEB) August 29, 2007
"The single biggest trend in weddings today is the fact that couples that are not only looking to include their personal style into every element of their wedding day, but their personal values as well," says Carley Roney, editor-in-chief of The Knot. "Whether it's a bridal shower that gives back or an eco-friendly fete, couples are raising the bar and infusing substance with style when it comes to planning their wedding day details."
The Knot reveals the ultimate What's Hot and What's Not list for fall:
WHAT'S HOT?
-- BRIDAL SHOWERS WITH A PURPOSE - No matter if she chooses to plant trees with her bridesmaids at a local park to help the environment, or hires a mixologist to whip up concoctions so that she and her girls can choose the signature drink, today's bride wants a shower with a purpose. WHAT'S NOT: OVERSIZED BRIDAL PARTIES - Having nine or more bridesmaids is just too much.
-- HEAD-TURNING INVITATIONS - From impressive tri-fold invitations to two-colored fonts and envelope liners, couples set the tone of their wedding right from the start. WHAT'S NOT: THE OVERSTUFFED ENVELOPES- Eco-conscious brides are forgoing the multiple pieces of paper like the sheets that have directions and accommodations, and putting all additional information on their personal wedding web page.
-- ECLECTIC RECEPTION DECOR - Whether it be sparkling vintage chandeliers or mixed match antique vases, today's modern couple is incorporating eclectic pieces into their wedding decor. For fall, couples are using everything from eye-catching copper pots to gorgeous gold-leaf vases; or going earthy with containers made of wood or covered in lichen. WHAT'S NOT: COOKIE-CUTTER DECOR - Does the generic decor that you see at every other wedding in town really show off your personal style and taste?
-- NATURAL BRIDAL STYLE - From dreamy flowing fabrics to a dewy, fresh face beauty vibe, the overall look of the moment is ethereal elegance. Drawing inspiration from Greek goddesses, everything from the fabrics to the accessories and even the hair and makeup are light and airy. WHAT'S NOT: FAIRY-TALE PRINCESS - This look is not only high maintenance, it's uncomfortable.
-- ENVIRONMENTALLY FRIENDLY WEDDINGS - Today more than ever, couples are looking for a way to give back when planning their wedding by incorporating eco-friendly elements. It's never been easier to plan a green wedding without sacrificing style, with tools such as a Green Wedding Guide on p. 32, as well as the Green Weddings Channel on TheKnot.com. WHAT'S NOT: THE BRIDEZILLA - Nightmare brides are definitely "out."
-- THE SIXTH COURSE FOR DESSERT - The dessert course got a decadent new makeover just in time for fall, with a serving of luscious Ports alongside artisan cheese. Take the trend to a new level of indulgence by including rich chocolate delicacies such as the dark chocolate bonbons featured on p. 25. WHAT'S NOT: SKIPPING DESSERT - Impress your guests with more then just the standard wedding cake.
-- HONEYMOON HOPPING - Finally, those couples that are one half beach beauty and one half mountain climber adventurist can enjoy a honeymoon that they will both appreciate. Nothing is hotter than honeymoon hopping, and thanks to the new interactive Honeymoon Map Tool on TheKnot.com, planning your multi-destination trip has never been easier! WHAT'S NOT: ONE-SIDED HONEYMOON - A honeymoon shouldn't cater to either the bride or the groom, both should love this trip of a lifetime.
For more hot trends, check out TheKnot.com and pick up your copy of The Knot Weddings Magazine Fall 2007/Winter 2008 issue, on newsstands now. To speak with an editor and receive camera-ready images to illustrate your wedding trend stories, contact Sr. PR Manager Melissa Bauer at 212.219.8555 x1020 or email her at mbauer@theknot.com.
About The Knot
The Knot is the nation's leading wedding resource, reaching over a million engaged couples each year through the #1 wedding website TheKnot.com, The Knot national and local wedding magazines, The Knot books (published by Random House and Chronicle), and television programming bearing The Knot name. The Knot is the flagship brand of The Knot, Inc. (NASDAQ: KNOT), a leading lifestage media company targeting couples planning their weddings and future lives together.