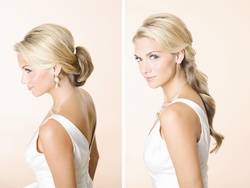 Brides want to be anything but boring this year
NEW YORK (PRWEB) January 3, 2008
"Brides want to be anything but boring this year," explains Carley Roney, editor-in-chief of The Knot. "From resourceful ways to get the perfect look to decadent reception decor inspired by Sofia Coppola's fashion epic Marie Antoinette, surprising elements like '80s cover bands, and daring destinations, couples are going to new lengths to infuse their personalities into their big day."
The Knot reveals the wedding style forecast for 2008:
BEAUTY & FASHION
STEAL THE LOOK (...WE MEAN, RENT IT!): Brides in lust with the luxury labels have found salvation at sites like bagborrowandsteal.com; for less than $100, you can rent a $2,600 pair of Vera Wang diamond and pearl-studded earrings or a Judith Leiber jeweled-encrusted clutch worth over $3,500.
SPLIT-PERSONALITY BRIDES: Brides are doing a double take during the wedding: doing presto-changos with their gowns (sometimes up to three wardrobe changes) and sneaking away during cocktail hour for a whole new hairdo (classic updos for the ceremony, then sexy tousled tresses on the dance floor!).
HEIRLOOM ENGAGEMENT & WEDDING RINGS: Jennifer Love Hewitt just got a bauble that's been in fiance Ross McCall's family for over 100 years. Alicia Silverstone wed Chris Jarecki wearing a ring crafted from his great-great-grandmother's ring. Passing down a time-honored piece of jewelry adds another layer of sentimentality that can't be bought in a store.
RECEPTION REDUX
THE "MARIE ANTOINETTE" WEDDING: We bet that Sofia Coppola had no idea that her fashionable blockbuster would inspire a whole new class of bourgeoisie brides! Lush floral centerpieces, rich gilded colors, big gowns, brocade, and decadent receptions are fit for royalty, complete with hand-painted invitations, champagne tasting bars, seven courses, and extravagant dessert displays!
'80'S COVER BANDS: Oh L'Amour! Couples are going beyond the classic wedding band and hiring '80s cover bands to play their favorite tunes from Men at Work, Madonna, and Michael Jackson. Other genre bands for hire: classic rock, college frat-house bands, swing orchestras, and Latin ensembles--along with hired dancers to get the party moving.
GREEN WEDDINGS: Couples continue to be earth-conscious in 2008: from email invites for weddings and festivities to serving up locally grown, free-range fare and donning bio-friendly wedding gowns made of 100 percent silk and cottons. They're also honeymooning at eco-resorts and gathering friends for charitable showers at soup kitchens and local park events.
GOING HI-TECH
THE SOCIAL NETWORK WEDDING: From viral proposal videos posted on YouTube to enhanced wedding web pages and Facebook-friend polling on first dance songs and menu options, weddings have become public planning ventures. Look for couples to log online, use blogs as "communication central," and, with new mobile technology, post on-the-road photos to get immediate feedback on decisions from their bridesmaids, friends, and family.
THE REAL WORLD: YOUR WEDDING: Couples will get celebrity exposure with major video footage of their wedding days, from "day in the life of" documentary-style videos to "same day edits" where ceremony photos and footage are highlighted at the reception. Guests become paparazzi with disposable video cameras on the tables (check out The Knot Shop).
TRAVEL
DARING DESTINATION WEDDINGS: The destination wedding trend will continue to evolve as new spots emerge. From taking guests on African safaris to skiing the slopes of Sundance, fly-fishing in Big Sky, Montana, and jetting off to Barcelona and Scottish castles!
HONEYMOONS ON STEROIDS: Twice as long, twice as far, twice as memorable: Couples are going the distance for their deluxe vacations.
For more hot trends, check out TheKnot.com and pick up your copy of The Knot Weddings Spring 2008 issue on newsstands now. To speak with an editor and receive camera-ready images to illustrate your wedding trend stories, contact Sr. PR Manager Melissa Bauer at (212) 219.8555 x1020 or email her at mbauer@theknot.com.
About The Knot
The Knot is the nation's leading wedding resource, reaching over a million engaged couples each year through the #1 wedding website TheKnot.com, The Knot national and local wedding magazines, The Knot books (published by Random House and Chronicle), and television programming bearing The Knot name. The Knot is the flagship brand of The Knot, Inc. (NASDAQ: KNOT), a leading lifestage media company targeting couples planning their weddings and future lives together.