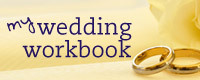 Brides relied on dark colors like navy, brown and even deep reds to anchor the look of their wedding, but they did use colors like orange, yellow, peach and pink as accent colors to add a little spice
Denver, CO (Vocus) December 7, 2009
This year, brides and grooms opted for darker, tried-and-true hues and less formal weddings, according to a recent survey conducted by My Wedding Workbook, the next-generation wedding software with more than 12,000 registered users.
"Regardless of whether trendsetters predict a renaissance of orange and lilac and of tuxes and ballroom gowns, engaged couples still tend to choose the colors and styles that they're comfortable with, and this year they opted for more comforting hues and styles," said Jeff Kear, co-owner of My Wedding Workbook and its sister Web site, My Wedding Workbook Pro, the online wedding planning software for bridal consultants.
Of the brides responding to the survey, 13.2% responded that navy blue was their main wedding color, with 9.7% stating black was their main color and 8.3% deep red. Other popular colors were: brown/chocolate, 7.9%; green/hunter, 7.9%; purple/plum, 6.9%; and light blue/aqua, 6.6%. Overall, almost 60% of brides chose darker hues as their main wedding color compared to lighter hues like pink (4.9%), orange (3.1%) and yellow (3.1%).
"Brides relied on dark colors like navy, brown and even deep reds to anchor the look of their wedding, but they did use colors like orange, yellow, peach and pink as accent colors to add a little spice," said Kear. "And there's always black, a classic hue that expresses elegance and stability."
As for their guests' attire, a large majority of couples (66.9%) opted for semi-formal attire such as suits and cocktail addresses, compared with only 14.6% choosing formal attire such as gowns and tuxedos. And 17.6% went the relaxed route with unbuttoned collars, slacks and skirts.
"As styles overall have recently shifted toward the casual and with attire in the workplace being more relaxed, you're seeing that carry over to weddings, where brides and grooms simply want to create a friendly, more relaxed atmosphere for their guests," said Kear.
The economy may have something to do with this return to the familiar and relaxed, with 62.3% of brides replying that the recession has had an impact on their wedding plans and budget. But that doesn't seem to have had an effect on the size of weddings, with 55.5% of couples having 100 guests or more at their weddings.
"One place where couples didn't seem to cut back was on their guest lists," said Kear. "Instead, they scheduled their dates further out, cut back on things like flowers and their honeymoon, made their own decorations and generally went more casual. This past year I guarantee you saw fewer martinis and more beer at receptions."
As for wedding parties, less was more this year, with 64.9% of brides having four or fewer bridesmaids and 65.6% of grooms having four or fewer groomsmen. "It's interesting how paring down in other areas also led to fewer attendants on both sides of the aisle. Couples this year just decided they were going to do more with less and have a great time with their family and friends. And that's really what weddings are about, anyways."
About My Wedding Workbook
The next-generation free wedding software, My Wedding Workbook provides all the tools engaged couples need to stay organized and is on the cutting edge of wedding websites. Its Web-based wedding planner tools are completely free, easy-to-use, comprehensive and let couples track their budgets, guest lists, RSVPs, gifts and every detail for every wedding-related event.
About My Wedding Workbook Pro
My Wedding Workbook Pro is online business management and wedding planner software for today's busy wedding consultant. As comprehensive, Web-based wedding software, it delivers all the tools a professional needs to stay organized; offers all the convenience of online software; and enables consultants to share areas of the software with their clients so they can more easily and efficiently collaborate with them.
For more information or data, call Jeff Kear at 303-321-3451.
###