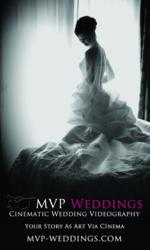 Everyone loved the video and they are still talking about it!
Fresno, Calif. (PRWEB) November 30, 2012
MVP Weddings, a company that creates cinematic wedding films, is now offering the option to provide a highlight video of the wedding ceremony that the bride, groom, and their guests can enjoy at their reception the same day of their wedding.
MVP Weddings shot footage of John and Chelsea Harrington's ceremony with several cameras and then projected an edited highlight film at their reception. "They blew everyone away with their same day edit. Everyone loved the video and they are still talking about it!" said Chelsea.
The same day edit is an option that couples can select when they choose a wedding film package. Couples can choose several options, including hours of coverage, number of cinematographers, camera angles, and what type of editing and highlights they would like.
About MVP Weddings
MVP Weddings creates beautiful wedding films for couples that tell their love story artistically through cinema. The company tells the story of who the couple is, how they fell in love, and the beauty of their relationship. The result is more like a feature film than a traditional wedding video.
Matt and Susan Martin, the owners of MVP Weddings, moved to Fresno in 2011 and established MVP Weddings after eight years of digital video production experience in the San Francisco Bay Area. MVP Weddings provides wedding videography services throughout the Central Valley, Los Angeles, and San Francisco areas. MVP Weddings is available for destination weddings.