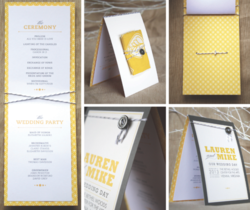 Minted's unique wedding programs offer a perfect blank canvas for each couple to build upon and apply their own personal style and creative expression.
San Francisco, CA (PRWEB) June 08, 2011
To celebrate the launch of their new wedding program offerings, Minted (http://www.minted.com ), the online store powered by a global design community, hosted the "$1,000 Blogger Wedding Program Challenge". Minted mailed bloggers uniquely designed, folded, do-it-yourself wedding programs, each designed by a Minted designer, to see what they could come up with - what was turned in was nothing short of brilliant.
Minted is pleased to announce the grand prize winner of the "$1,000 Blogger Program Challenge", Iowa-based designer Meg Gleason of Moglea for her Washi tape entry. "Meg's entry is elegant with just a touch of edge," says Minted CEO and founder Mariam Naficy. "We love that the work of our indie designers inspired such a high-level of participation and so much creativity from the vibrant blogging world."
Meg Gleason, grand prize winner, loved the idea of customizing a Minted wedding program to reflect a bride's personal style. "Minted's unique wedding programs offer a perfect blank canvas for each couple to build upon and apply their own personal style and creative expression," says Gleason, who also happens to be a Minted designer.
"Often the programs are one of the last tasks the bride and groom complete, so I loved how easy it was to put my Washi tape entry together," says Gleason. "It is simple, and the layering of multi-patterned tapes is beautiful. Something even the groom can do!"
Meg Gleason of Moglea will receive $1,000 for her silver Washi tape entry, which also featured program pages resembling lace at the bottom.
Minted offers brides three wedding program formats for a gorgeous, pulled-together look:

The Minibook™ Cards feature four separate pages bound by grommets with four to seven photos. The Minibook™ Cards and DIY options offer more room for reading text, song lyrics, detailed ceremony explanation or a note from the couple.
Flat cards are a very easy and elegant way to share the important people and readings of a couple's special day, and perfect for brides with minimal text.
The folded, do-it-yourself programs offer room for creative binding and embellishment and have a cover for pages that brides can print themselves from Minted's online templates.
"We are excited to be able to offer brides a wide assortment of uniquely designed wedding paper pieces—from save the date cards and wedding invitations programs, place cards and thank you notes. Minted is the one-stop shop for brides who want perfect coordination, but not a cookie-cutter wedding," says Naficy. "We give brides a wedding designed just for them with endless options for personalization."
The two runner-ups, in no particular order, were entered by Sarah Matthews of Orange Blossom Ink and Victoria Hudgins of A Subtle Revelry. Sarah's design featured a twine and button binding, as well as a handkerchief tied to the back of the program for all those happy tears. The handkerchief doubles as a sweet party favor. Victoria's design focused on multi-colored brads. Both Sarah and Victoria will receive $500 Minted gift certificates.
The difference between Victoria Hudgin's brads and Meg Gleason's Washi on the same Charming Go Lightly by Cheree Berry wedding program demonstrates how one Minted program can be taken in different directions and create a truly personalized wedding experience.
Minted's step-by-step DIY wedding program guide on creating your DIY wedding program and downloadable wedding program templates will make the bloggers' ideas easy for brides the world over to recreate.
About Minted's Design Challenges:
Minted's mission is to allow consumers to discover design genius from all over the world, providing an opportunity for designers to build their careers on merit alone. Minted holds monthly design challenges to source designs from a large global community of designers. The Minted community selects the best designs in a highly competitive and meritocratic process, yielding a top selection of the freshest, finest cards in the world. To that end, Minted's 2010 holiday card competition was the company's biggest challenge yet: almost half a million votes were cast for 1,370 designs, and the top contenders were chosen by Minted's community for sale.
About Minted:
Minted is a venture-backed design community and online store, crowd-sourcing graphic designs and content from a global design community and selling those as premium printed paper products initially focused on the $10 billion stationery, invitations, and cards market.
Minted has radically transformed what consumers now expect in holiday cards, wedding invitations, save the dates, birth announcements, baby shower invitations, business cards, and other personal stationery. The company's paper and printing is of the highest quality and it leads the market with the freshest designs, newest formats and most coveted details. Minted's fresh, unique designs have been featured on The Today Show, The Early Show, in Real Simple, Town & Country, InStyle Weddings, Food & Wine and other major national magazines.
###