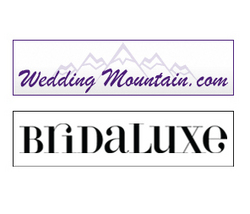 says Jeff James, CEO of Bridaluxe.
Boston, MA (PRWEB) October 23, 2009
The ultimate mountain for a climber may be Mt. Everest, but for a bride-to-be? It has to be Wedding Mountain, one of the web's largest wedding stores, and now part of Bridaluxe the affiliate program for weddings.
"We really strive to be the ultimate wedding resource." says Mike Strader, Affiliate Manager at Wedding Mountain. "We're adding new wedding accessories, supplies and bridal accessories to the site every day so Bridaluxe publishers are always going to have something fresh and exciting to promote."
Wedding Mountain carries popular wedding accessories like cake toppers and favors from top bridal manufacturers, and recently introduced bridesmaid and wedding dresses priced from about $150 to $1000.
This is an exciting addition to our network and a great opportunity for wedding web site owners." says Jeff James, CEO of Bridaluxe. "Wedding Mountain is now fully integrated into our suite of marketing tools which means that any wedding web site owner can quickly start earning commissions using or dynamic Storefront tool or Wordpress plugin. Sophisticated publishers appreciate the power and flexibility available via our API and datafeeds."
Bridaluxe publishers promoting Wedding Mountain receive competitive commissions from 9% -13% and 90 return days. New publishers interested in this affiliate program for weddings may apply at Bridaluxe.
About Wedding Mountain
Wedding Mountain is one of the largest online wedding stores with thousands of wedding supplies, wedding accessories and bridal accessories from the top bridal designers and manufacturers.
About Bridaluxe
Bridaluxe, the affiliate marketing network for weddings helps advertisers and publishers thrive in the $60 billion dollar bridal industry.
###