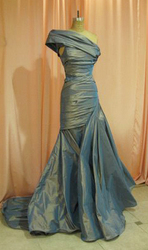 I think it's perfect that my Concept Creation Couture Collection will be unveiled at Fishman's, as this body of work is a wonderful example of the inspiring medium of gorgeous fabrics
Chicago, IL (Vocus) March 30, 2010
Premier Chicago couture designer, Elda De La Rosa, announces the introduction of her latest collection, the Concept Creation Couture Collection 2010, to be unveiled on Thursday, April 8, 2010 at Fishman's Fabrics, 1101 S. Des Plaines St. in downtown Chicago. The fashion show will begin at 7:00 p.m., immediately following a cocktail reception at 6:00 p.m.
"I think it's perfect that my Concept Creation Couture Collection will be unveiled at Fishman's, as this body of work is a wonderful example of the inspiring medium of gorgeous fabrics," said De La Rosa. "I'm particularly excited about the show's finale piece, which to me epitomizes the process of 'Fabric to Couture' -- taking luxurious fabrics and harnessing the feeling they elicit as inspiration for the red carpet."
De La Rosa considers herself more builder and architect than fashion designer. Inspired by her love affair with couture and glamour, she uses elegant, rich fabrics as the canvas on which to create the pieces in this show. The Concept Creation Couture collection illustrates De La Rosa's extensive range as an artist and features evening and wedding gowns, cocktail dresses, separates and suits made with the decadent fabrics and rapt attention to detail for which she has become known.
The show's finale will feature the gown selected for this year's Oscars® Designer Challenge 2010, for which De La Rosa was chosen as one of only nine designer finalists in the country. The Gown, Lucero, is bluish/gold in color, made of iridescent, silk taffeta and inspired by the strong, yet beautiful and feminine women who have influenced De La Rosa's life. Specifically, she tapped into the classic, tailored, vintage look of the 40's, where structure met femininity.
Couture hair designs will be provided Genacelli Salon (http://www.genacelli.com ) 773-248-8822.
To attend the fashion show and cocktail reception, please RSVP by April 5th to info(at)eldadelarosa(dot)com or call 773-769-3128.
About Fishman's Fabrics
Since 1903, the Fishman family's mission has been simple. Identify the best fabrics in the world, and build relationships with the mills that produce them. Fishman's Fabric offers approximately 120 lines with continuity. Cashmeres from Scotland, wool suitings from Italy, linens from Belgium, cotton shirtings from Brazil, and American made wool felt are just a few of its lines.
The business is balanced with national distribution for wholesale, and a 10,000 square foot warehouse and showroom for retail clients in Chicago. Fishman's still purchases fabric and leather remnants from premier clothing designers and luxury furniture manufactures, and offers these fabrics at prices of $10-$20/yard.
About Elda De La Rosa Couture
Since 2001, Elda De La Rosa has been designing collections inspired by the strong, beautiful Spanish women who have helped shape her life and the flowing, organic nature of the fabrics she uses.
While classically trained at the Illinois Institute of Art, Elda grew up surrounded by family who were seamstresses by trade. By the time she was a teenager, Elda was working in a bridal boutique and contributing as both a skilled seamstress and burgeoning designer.
Now, as a leading designer in the Chicago community, Elda is on the Illinois Institute of Art's advisory board as well as that of the fashion department for Harper College. She is also a board member of the prestigious Apparel Industry Board, Inc. (AIBI) currently led by President Victor Skrebneski. Her spring 2010 collection, Alta Gracia, was featured during Nolcha Fashion Week in New York and at World Fashion Chicago.
In addition to her leadership role in Chicago's fashion industry, Elda De La Rosa's pieces are frequently worn by Chicago media personalities and celebrities and have been featured in numerous media outlets including, The Chicago Tribune, Chicago Social Bride, The Chicago Sun-Times, Daily Candy, Style Chicago and Today's Chicago Woman.
Elda De La Rosa Couture is located at 5555 North Sheridan Road, Suite 0015 in the historic Edgewater Beach Apartment "Pink Palace" building. For more information, please visit http://www.eldadelarosa.com , call (773) 769-3128 or email info(at)eldadelarosa(dot)com.
Follow Elda online at http://eldadelarosa.wordpress.com/ , on Twitter, or join her http://www.facebook.com/profile.php?id=1577685191&ref=search&sid=606757677.2527009331..1 [Facebook page].
###