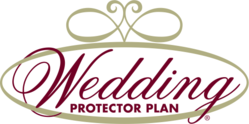 Tampa, FL (PRWEB) March 28, 2012
The Wedding Protector Plan®, underwritten by Travelers, urges brides and grooms to consider insuring their investment and deposits for their upcoming wedding. The wedding and event insurance provides coverage for many problems including severe weather that may be avoided if insured properly.
Tornado season is upon us and hurricane season is looming close behind. Already a record number of tornadoes have swept across the United States this year, which could set the stage for the intensity of the upcoming hurricane predictions. According to TheKnot.com, there were 6,031 weddings planned for Aug. 26 through Aug. 28 in areas affected by Hurricane Irene.
Couples planning to wed should take several precautions to insure their wedding investment is protected.
1. Purchase wedding/event insurance prior to active storm season.
2. If planning an outdoor ceremony/reception be sure to have an alternate indoor plan.
3. Inquire if the venue has back up energy sources in case of power outage during ceremony or reception.
4. If it is a destination wedding hire a coordinator that is familiar with your destination.
5. If booking through a honeymoon destination company ask if they have a "Hurricane Guarantee Policy".
With the upcoming severe weather season, the Wedding Protector Plan® is urging couples to consider insurance options when the wedding planning begins. The no-deductible Wedding Protector Plan®, is helping a growing number of couples protect their budget for as little as $160 by covering items such as lost deposits, unavoidable cancellation due to weather or military leave, lost or damaged photographs, gift breakage, host liability concerns and more.
About the Wedding Protector Plan®
The Wedding Protector Plan®, underwritten by Travelers, provides coverage for many problems such as certain severe weather causing wedding cancellation or postponement, transportation shutdowns, lost deposits, and other headaches that can ruin the anticipated celebration. Consumers may also have the option to add liability insurance with no deductible as an endorsement to their special event insurance policy.