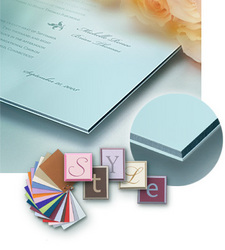 When you work with your local stationer, it's a secure process for you and for us. We can confidently print your invitations or other stationery, knowing that what we are creating is exactly what you are expecting.
Greenwich, CT (Vocus) February 19, 2009
With so many designs and customization options available, bridal couples are often overwhelmed by the complexities involved in designing their wedding invitation. Sheila May, a founding member of the Stationers Guild (http://www.stationersguild.org/weddings.html), offers tips to help guide couples through the paper, printing and design options to craft an elegant custom wedding invitation. As a rule of thumb, one should allocate between four and five percent of their overall budget for wedding invitations and other wedding stationery.
Sheila May, a founding member of the Stationers Guild, offers the following suggestions to help couples select the perfect wedding invitation.
1. Shop locally with an experienced stationer: An experienced stationer helps couples navigate through a landscape often filled with potholes and dead-ends. These stationers have been through the process hundreds of times. They know the papers, the printing processes, the design elements and the wedding etiquette to create truly beautiful wedding invitations. Local stationers represent many different companies and can offer a wide choice of papers and designs that most online printers simply can't begin to match. As letterpress printer Julie Holcomb eloquently states "When you work with your local stationer, it's a secure process for you and for us. We can confidently print your invitations or other stationery, knowing that what we are creating is exactly what you are expecting." Consult the Stationers Guild website to locate an experienced stationer in your neighborhood. In addition, the Guild website is a useful reference source for industry trends and a guide to leading wedding stationery designers and printers.
2. The key to a beautiful wedding invitation is the paper: "Don't skimp on the quality of paper you use for your wedding invitation." Paper is a tactile experience and your invitation will come alive in the hands of guests when they open the wedding invitation. Whether using 100% cotton fiber or wood-fiber paper certified by the Forest Stewardship Council, there is an abundance of Eco-friendly paper options available. By working with local stationer, couples can sort through hundreds of paper samples in a short time to select the one that feels and looks right. Take the guesswork out of online search and insist on real paper samples from the neighborhood stationer.
3. Control costs through substitution and trade-offs: While engraving and letterpress create beautiful impressions on quality paper, both printing processes are more expensive than thermography or flat-printing. If it is within the budget, an engraved or letterpress invitation is clearly worth the additional expense. Nevertheless, other wedding papers such as wedding programs, direction cards and save the date announcements can be flat-printed. Color is generally an important component of the wedding papers. By using layered papers, colored envelope linings and reversing the paper and print colors of your reply card set, it can often create a beautiful effect and still save money. For instance, Luscious Verde uses color swatches so couples can experiment with different paper combinations and design elements. This process simulates borders and the paper-layering adds weight to the invitation. Fine paper companies such as Encore Invitations have many sample invitations grouped in different price categories to help couples find a quality invitation. Don't be afraid to experiment and ask the stationer to suggest alternatives to stay within the budget.
4. Customize the invitation to create something special: Most couples hope to stamp their personality on the wedding event. A well-crafted save the date announcement and the wedding invitation will set the stage for that important day. As Karen Herzig, Design Manager of William Arthur says, "This can be expressed in a wide array of styles from the whimsical to the elegant; the traditional to the contemporary. Today's bride wants their 'perfect day' to reflect their personal sense of style. This can include a sense of heritage, or simply a sense of the season." Working in concert, wedding papers create a sense of anticipation for the event and provide guests with relevant information to help them plan for the event. Couples are encouraged to use a save the date announcement to send out travel and accommodation information. Getting this information to guests early in the planning cycle helps them lock in the wedding date and perhaps make less expensive travel arrangements. One should keep in mind that well-constructed wedding papers are essential to good organization and help keep loose ends to a minimum.
According to Wedding Reports, the average cost of a wedding fell by 24% in 2008. Most forecasters don't anticipate conditions to change significantly in 2009. Planning wisely has never been so important. Invariably, couples will be faced with important decisions and trade-offs to keep costs under control. Working with an experienced stationer can help keep costs within budget and still create a custom wedding invitation that stamps a couple's personality on that important day.
For more information on Stationers Guild, please visit http://www.stationersguild.org/weddings.html
###