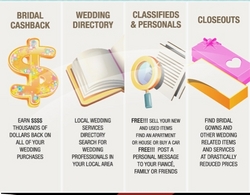 After our engagement we had no idea where to start planning our wedding. My girlfriend raved about Bridalcashback.com and how much money she saved on her wedding. The Services directory was an awesome resource for me and my fiancé.
Long Island, NY (PRWEB) February 18, 2011
We are excited to announce the launch of new website bridalcashback.com dedicated for brides and grooms to join free and save thousands of dollars on their upcoming wedding.
The site has compiled New York area wedding venues and vendors like wedding photographers to bring consumers and vendors together.
Today on average wedding services account for about 46 percent of total wedding expenditures. As a result, more couples are opting for a customizable online tool such as bridalcashback.com for wedding ideas and to help them save money on their big day. Remarkably, they even offer hundreds or thousands of dollars in cashback reward incentives to consumers looking for budget wedding ideas.
"Our site is really aimed at helping consumers benefit from finding cashback deals, and other incentives online that can't be matched elsewhere," said Neil Berger, President of bridalcashback.com, a free online wedding service directory.
"The advantage of planning your wedding online is that you can compare prices more efficiently," said Berger.
According to the Association of Bridal Consultants, it is best to begin planning a wedding at least 12 to 18 months before the wedding date. Brides and grooms can benefit by using wedding planning websites to help them organize their weddings in advance and shop online to find the best wedding services, and maximize on their savings.
However joyous a wedding day may be, among all sectors, the wedding industry has been one of the hardest hit.
In 2010, there were just over 2 million weddings in the U.S., a decrease of nearly 100,000 weddings from 2008 and nearly 200,000 weddings from 2005.
As wedding businesses fight to stay afloat, many vendors are eager to sell quality services for reduced prices, passing savings along to couples.
By the beginning of 2010, the average wedding cost nationwide had plunged to $19,500, a one-third decrease in less than three years. The drastic change has been attributed not only to couples changing their spending habits, but also to wedding vendors adjusting their prices.
To help couples take advantage of the current opportunities, online wedding site allow users to tally their costs and compete for deals.
Bridalcashback.com compiles highly discounted offers for Wedding New York and Wedding Long Island, to help put five-star weddings within reach.
As a result, brides and grooms now have more variety and choice to help them save money on their weddings.
# # #