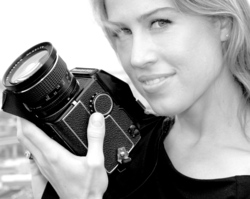 The news of being laid-off was really the push I needed to launch my photography career and take my talent of being a wedding photographer, portrait photographer and commercial photographer to the next level
San Francisco, CA (PRWEB) July 13, 2009
During this marked economic downfall, people are putting their dreams of large houses, expensive cars, and consumerism on hold. Others see this as an opportunity to take advantage of the leveling playing field to start-up a small business with little to no capital.
San Francisco photographer, Tarah Cranford, leveraged the recession in her favor by launching her passion of photography into a thriving career at TarahPhotography.com after she became one among thousands who were laid-off - yet one of few who saw it as an opportunity to turn her hobby into a successful business. The Wall Street Journal took notes by profiling her entrepreneurial spirit and sharing-in on her start-up photography business.
"The news of being laid-off was really the push I needed to launch my photography career and take my talent of being a wedding photographer, portrait photographer and commercial photographer to the next level," said Tarah. "I was able to take the steps necessary to become profitable by working with freelance talent who found themselves in the same position as me."
Turning her hobby of photography into a profitable start-up business had always been her goal, and with it came a learning curve. The busy San Francisco photographer tackled challenges such as how to price herself, how to create an online presence through search engine optimization (SEO) and even her lifestyle. She was self-managing which meant new entrepreneurial rules. Entrepreneur Magazine Online took interest and listened-in while she learned the business and how to turn a profit.
From her experience as a wedding photographer and portrait photographer, the number one piece of advice Tarah gives to people who are considering launching their business idea or turning their hobby into a business is, "Get a professional website, be sure it's search engine optimized, and offer the world valuable information and talent."
ABOUT SAN FRANCISCO PHOTOGRAPHER, TARAH PHOTOGRAPHY

Wedding Photographer and Portrait Photographer -
Tarah Cranford, a San Francisco Photographer, serves the greater Bay Area in San Francisco, Napa, Sacramento, Marin, San Jose, Los Angeles and beyond. She has worked with numerous acclaimed clients in the Bay Area and beyond such as Ultimate Fighter Frank Shamrock, Executive Producer Brian Benson of "Groove," VH1's reality TV star Margo from "Tool Academy," UBS Financial Services among others. She specializes as a wedding photographer and portrait photographer and uses a photojournalistic style. She has been profiled by The Wall Street Journal, featured by Fox Business News and included in Entrepreneur.com as an emerging photographer. She has also been a guest on various business building shows such as "The Big Biz Show" on both their radio edition, Talk Radio Network, and TV edition WealthTV, and was a guest on Robin Hardy's radio show. For more information visit http://www.TarahPhotography.com.
# # #