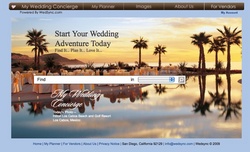 My Wedding Concierge Vendor Guide
San Diego, CA, (PRWEB) October 13, 2009
WedSync Inc, is proud to announce the launch of WedSync.com - a wedding website / iPhone App combo powered by smart search technology for connecting brides to wedding vendors. "My Wedding Concierge Vendor Guide" can be downloaded for free via iPhone or iPod Touch from the Apple App Store.
WedSync.com offers brides a new way to find wedding vendors. The landing page is clean and uncluttered. It is easy to know exactly what to do. Just type your search into the box and click on the magnifying glass. All vendors that match your search terms will come up. WedSync's smart search leverages novel linguistic techniques to match the maximum number of relevant wedding vendors. Gone are all the typical findings of a wedding planning website: to do lists, seating charts, and banner ads.
Wedding vendors benefit by having not only their contact information and photographs displayed, but all of their social media present as well: twitter, Facebook, and blogs. By providing a single access point to all of a vendor's major social marketing channels, brides can quickly review all of the current activities and promotions a vendor might be engaged in. Finally, if a bride likes a vendor, she can quickly create a twitter tweet or a post to Facebook so her friends / social network can provide their feedback.
Nottoway Plantation's Ad is an example of a vendor who has taken advantage of wedsync.com's ability to display all of their viral infrastructure in a single one-stop shop for the bride.
Another benefit for wedding vendors and brides is the image gallery. A photo gallery of up to 110 randomly chosen photographs is shown each time a bride clicks on the tab. Imagine the emotional investment the bride has made when she sees the over water bungalows of Bora Bora. She clicks on the picture and she is brought immediately to that vendor's ad.
My Wedding Concierge Vendor Guide was created for brides looking for an easy way to find wedding vendors on the go. With over 85,000 Apps available in the iTunes store, there are only a handful of wedding planning apps. Out of those, My Wedding Concierge Vendor Guide is the only one that focuses only on wedding vendors. Wedding vendors can be assured that the only reason brides use this app is to search for wedding vendors. There are no budget worksheets, guest lists, and to do lists.
"A main benefit of My Wedding Concierge Vendor Guide is that it allows brides to save photographs into her favorites folder and bring it along with her to her vendor meetings. She can pull out her iPhone and immediately show the wedding vendor what kind of bouquet she wants. Gone are the days of unorganized folders full of magazine pictures and 3 ring binders," says Phyllis Cheung, founder of WedSync.com and My Wedding Concierge Vendor Guide.
Fred Jacobs, President of Jacobs Marketing Inc., and Founder of The Pink Book believes, "The internet offers many opportunities and challenges for today's mobile bride in planning her wedding. Today's bride knows what she wants and is visually stimulated. I am very impressed with "My Wedding Concierge" and it's unique approach from the home page to the visual approach of saving all of the bride's favorite pictures at her fingertips. I am excited about the partnership of JMI and Wedsync through The Pink Book and The Pink Book Blogs."
"I love the innovation that WedSync has displayed in showcasing wedding vendors in their iPhone App. With it's beautiful and easy to use interface, brides will be using this app throughout their wedding planning process," says Greg Strobach, President of All About Honeymoons.
For additional information on WedSync.com or My Wedding Concierge Vendor Guide, contact Phyllis Cheung, info(at)wedsync.com, 858-603-5682. My Wedding Concierge Vendor Guide is available as a free download in the Apple iTunes store.
###