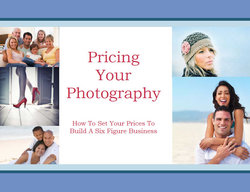 I've watched hundreds of photographers start up a business and close it down within months simply because they didn't understand how to price their photography
Englewood, CO (PRWEB) July 27, 2010
PricingYourPhotography.com is helping photographers understand one of the most difficult parts of operating a photography studio - pricing photography and creating wedding and portrait packages that allow a healthy profit.
"As a professional photographer for over 20 years, I've watched hundreds of photographers start up a business and close it down within months simply because they didn't understand how to price their photography," stated Lori Osterberg, author of the Pricing Your Photography guide. "When photographers go into business, they usually price shop or head online to find a few sample pricing lists. Then they cut their own prices in half, thinking they can't charge as much because they are new to the business. They quickly learn they will either go out of business, or need to make a drastic change."
Pricing Your Photography is a new, step by step guide that is changing the misconception that goes along with this method.
"Imagine if every industry priced its products by finding its nearest competitor, and cut the going rate in half," stated Osterberg. "There is simply no way anyone would be in business with that pricing model. Yet photographers do it all the time. There is a better way. One that will price your photography for what it is worth, and provide you with a full time living that actually allows you to build a full time income stream from your photography business."
The Pricing Your Photography guide provides photography training in an easy to use, step-by-step blueprint for setting up a pricing structure for both wedding photographers and portrait photographers. It shows:
· Understanding the "Pay Yourself First" concept
· How to choose your salary
· A formula for creating packages for weddings and portraits
Using the tools in this guide, any person thinking of starting a photography business, or a part time photographer that has struggled with how to turn their photography business into a career will quickly be able to find the optimal price for their services, and begin implementing changes immediately.
"My goal for the past few years is to help turn as many photographers as possible into six figure photographers," stated Osterberg. "The first step in this process is to begin viewing their photography by its true worth, not based on what others charge. While the photography industry is in turmoil because of so many photographers offering cutthroat pricing, I know they will never be able to stay in business without raising their prices. By opening up photographers eyes and showing them how they can look at their business in a whole new way, I'm hoping to move more studios to the profitable level."
For more information:
Lori Osterberg
303-221-1027
http://pricingyourphotography.com/
###