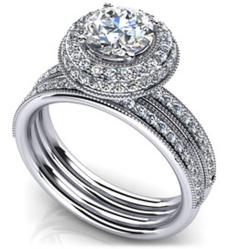 San Diego, CA (PRWEB) May 30, 2012
Anjolee, a fine jewelry manufacturer since 1977, is very pleased to announce the release of their new collection of beautiful, custom, vintage diamond jewelry. Based on classic designs yet made of new materials, the pieces in this collection tap into the current trend toward vintage styles that are all the rage in clothing and accessories, including jewelry.
The word "Vintage" is generally a term more associated with wine, but, it has also come to be used with regards to fashion. It basically incorporates the same idea of looking at the age or year a piece originated to determine its worth in the way wine does. Yet, unlike wine, in the fashion world, vintage items can also be made new, today, just in that old design or style.
Several of these new vintage jewelry pieces Anjolee has just made available should definitely be viewed by any grooms to be in search of that perfect ring. The first new design is the 'Fall in Love With Vintage Diamond Bridal Set' style number MS160. The bridal set featured in this collection is fashionable yet sophisticated and incorporates large and small diamonds in the design for a simply stunning look. Timeless details like millgrain edging and small round diamonds along the ring shank combine to create a truly unique vintage inspired ring. A solo engagement ring is available in the same style as well, called the 'Fall in Love With Vintage Diamond Engagement Ring' style number MS160-A. The center diamond is accented by a lovely round ring head full of intricate setting details.
Also included in the new collection is the 'Classic Diamond Strand Necklace with Shiny Links'
style number SN991-A. This lovely diamond necklace uses large diamonds in the center of the piece then graduates to smaller diamonds up the sides. Shiny gold or platinum links complete the rest of the necklace so the sparkle is front and center. This style of necklace is usually referred to as a Riviera diamond necklace. It's known for offering a classic look that can be worn with a variety of styles and for nearly any occasion.
Customers will be pleased to note that, as with all of the other jewelry from Anjolee, this new, vintage, diamond jewelry collection is quite customizable. After an item is chosen, it can then be customized by selecting options including diamond carat and metal type. This combination of pre selected designs and custom options allows for the creation of fully original, high end jewelry at an affordable cost.
The pieces in this new collection by Anjolee mark another milestone in this company's illustrious career. Not only that though, they offer customers even more options for high quality jewelry from a respected, trusted, and experienced jewelry company.
To View all the fabulous jewelry from Anjolee including these new, vintage, diamond pieces visit their website http://www.anjolee.com/.