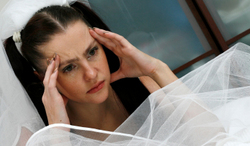 I have seen wedding nerves at first hand, they can devastate a wedding.
United Kingdom (PRWEB) June 8, 2010
Wedding day jitters: they are a well-known phenomenon and can spoil the enjoyment of the event for many. A father of four daughters and founder of The Fear Course shows how to deal with wedding nerves with the release of a complete set of "Special courses-to-download for Dealing with Wedding Nerves," designed to take the stress out of that most-special of days (http://www.fearcourse.com/wedding-nerves.html).
"Nerves have traditionally been seen as just part of the territory for many couples getting married and others charged with official wedding duties like the best man or father of the bride," says Dr. David Wilkinson, father of five (four daughters), creator of the course and founder of The Fear Course. "As you can imagine, with four daughters I have seen quite a few weddings and the nerves and fear people experience as a result. As the big day looms, a whole series of things start to prey on people's minds and emotions tend to get tested and often frayed. From those tasked with performing on the day, the speech makers, family members, and friends who all bear some responsibility for making the day run smoothly, wedding nerves can really take their toll.I have seen people freeze, feint, get ill, forget their lines, and in one case actually run away during the wedding because of nerves and jitters."
Wedding nerves are now all history as the team at The Fear Course has released its entire series of innovative resources for brides, grooms, best men, fathers of the bride and groom, and both the mothers. The five specialist courses-to-download contains a step-by-step instructional guide as well as video and audio tutorials, and are specifically aimed at the very people who suffer the most from nerves and stress before and during a wedding. Each guide is packed with specific tools, techniques, and advice for all the main players of the wedding.
"Standing up before a crowd of people and saying 'I do' or making a speech on a wedding day can be a nerve wracking experience, for many people" adds Wilkinson. "As a father of four daughters I have had my fair share of wedding experiences and I know what it can be like."
These guides can be downloaded at http://www.fearcourse.com/wedding-nerves.html. In addition, The Fear Course offers free help for alleviating wedding nerves and stress.
For more information, contact:
Dave Wilkinson
+44(0)20 8938 3590
http://www.fearcourse.com
About The Fear Course
The Fear Course, based in Lower Heyford, Oxfordshire, in the United Kingdom, was established in 2007. It was founded by Dr. David Wilkinson, an ex-Police Chief Inspector who retired from his line of work because of Post Traumatic Stress Disorder (PTSD). After spending years of suffering from flash-backs, panic attacks, depression, and anxiety, he set out to research this condition. As an academic and researcher into emotional resilience he then learned ways to overcome it, and the techniques he developed were so successful that he decided to develop "The Fear Course,"to teach others how to manage stress and overcome fear. He is also the author of the book, "The Ambiguity Advantage." Wilkinson lectures at many Universities and colleges around the world on the topic.
# # #