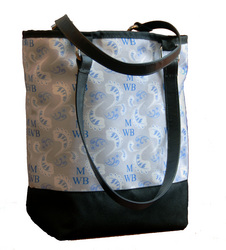 Brides look for novel ideas that can add an emotional sparkle into their activities so they are as memorable and joyous as possible
Fort Collins, CO (PRWEB) April 13, 2009
For the bride who insists on uncompromising fashion, Bizz Bag, Inc. announces an innovative line of personalized wedding totes on which to bestow her signature style. "Brides look for novel ideas that can add an emotional sparkle into their activities so they are as memorable and joyous as possible," says Mary W. Brophy, CEO of Bizz Bag, Inc. "Our custom wedding tote adds that spark with a unique, quality and prestigious design that is useful after her nuptials."
"This personalized bride bag is an innovation that integrates the bride's initials throughout the handbag's fabric print similar to designer logo bags, but the logo is hers," states Brophy. Bizz Bag commissioned a top textile designer to create these fabric patterns. Spending extravagant amounts on a designer handbag is impractical for many women, but a high quality custom bag satisfies the desire at an accessible price.
"Another reason this unique tote is gathering status is that brides adore a related trend: monogrammed themed weddings," adds Brophy. Brides can use their tote as they plan the wedding: going to appointments, visiting venues and traveling to the ceremony and honeymoon. Totes bags are not only wonderful gifts for the bride from her family or friends, but also for the bridesmaid or maid of honor from the bride. Giving a logo bag is not only an expression of appreciation, but a gift that any woman will treasure -- the ultimate personalized accessory.
Bizzbags are easy to order online using the bride's initials, name or other monogram. An extraordinary accessory, the tote bag is offered in a variety of prints suitable for formal, casual and destination weddings. Starting from $179, each tote bag is crafted with leather handles, trim and hardware in coordinated combinations. The tote has a fully lined interior with a zipper pocket inside. Each custom shoulder bag is individually constructed and shipped in 6 weeks.
About Bizz Bags, Inc.:
Bizz Bags sells and manufactures personalized logo accessories - perfect for the bride showing off her monogram or for business women flaunting her business logo. Featuring high quality fabric, leather handles and unique fabric designs, trend-setting women love adding their signature touch as they design and share their logos. The bags are available in tote, laptop, portfolio and messenger styles. Our products are crafted in the U.S.A. All items can be designed and purchased online at bizzbag.com and are shipped in 6 weeks to your door - ready for an afternoon out on the town. Bizz Bag, Inc. has been producing customer-designed fabric since 1994.
###