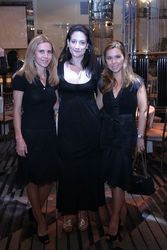 Print has been our platform of choice for over 19 years, but our new generation of readers were born in the internet age and are dropping print magazines in favor of websites . Says Severine Ferrari, Editor-in-Chief
New York, NY (PRWEB) September 21, 2010
Wedding Dresses Magazine, the fashion magazine for brides has been published in the US and Canada since 1991. While discovering emerging bridal talents such as Vera Wang, Amsale, Reem Acra and Monique Lhuillier. Wedding Dresses helped educate brides to be on the merits of Couture manufacturing and shaped a revolution in style.
"Print has been our platform of choice for over 19 years, but our new generation of readers were born in the internet age and are dropping print magazines in favor of websites . They are reading digital magazines with iPads and other mobile devices .When it comes to planning a wedding, the internet offers the best timely tools and research to help them through the process. We feel that we can do much more to help women style themselves for their wedding with our new online magazine on weddingdresses.com", says Severine Ferrari editor-in-chief.
WeddingDresses.com, the online home for Wedding Dresses magazine, has just been completely revamped. The site, which gets a first-page ranking for the keyword "wedding dresses," will now include everything any stylish bride-to-be needs to know before styling herself and her wedding party. The new WeddingDresses.com is dedicated solely to bridal fashion. Designers all over the world are getting extraordinarily creative. Soon to be married women have developed a taste for fashion which is going to drive their selection of dresses and accessories. They need to know what is out there and how to best style themselves and their bridal party depending on their taste , body-type and budget. The overall theme of the wedding is also important in the selection of all the fashion pieces and accessories.
Weddingdresses.com will be updated daily, develop unique styling tools and build an online community of bridal fashionistas. It will cover the upcoming Bridal Fashion Week in New York with a team of bridal fashion experts. Severine Ferrari, Wedding Dresses' French Editor-in-Chief, will report on all the week's buzz and exciting events. Monica Cotto, Luxury Style Expert, will highlight all her favorite Couture trends while Michael O'Connor, Celebrity Style Expert, will comment on how Celebrity Red Carpet trends influence this Bridal Fashion Week. Satya Picard, Editorial Director and Wedding Expert, will pick her favorite styles and trends for real brides. Stephanie Taylor, Fashion Reporter, will conduct exclusive interviews with the star designers of the week. Wedding Dresses will also publish digital issues in 2011 through different platforms and digital distributors. Wedding Dresses Magazine is owned by GBP USA , its sister publication is Engagement 101 Magazine.
For more info please contact Stephanie Taylor at s(dot)taylor(at)weddingdresses(dot)com
212-888-3935
###