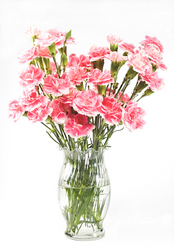 Amaryllis is the traditional flower for the holidays, and Baby's breath will add that one-of-a-kind look for certain holiday decoration ideas
Ojai, CA (PRWEB) December 5, 2008
In response to the rising interest in Do It Yourself flowers, FiftyFlowers announces a new line of wholesale flowers combined into convenient holiday season packages. Choose a mix of fresh cut blooms in red, white, green, gold and silver colors to make your holiday arrangements.
Each holiday season brings a renewed interest in adorning the home with beautiful, festive decorations. Flowers are one of the best choices because they add a touch of life, scent and color. There are many colors and flower types available online for express delivery. "Amaryllis is the traditional flower for the holidays, and Baby's breath will add that one-of-a-kind look for certain holiday decoration ideas," adds Liza Roeser Atwood, a FiftyFlowers spokeswoman.
Amaryllis is one of the best flowers to use for these holidays, not only because they come in rich red, pink and white colors, but also because they have a special holiday meaning attached to them. These flowers look gorgeous on their own, and can be combined with greens such as St. Augustine Holly for a truly special yet simple arrangement.
Carnations and gerbera daisies come in colors that are perfect for the season and at value oriented prices. The DIY homemaker can also find special DIY mixed flower packs with various bulk flowers that are designed to get the attention of holiday guests and relatives.
In the pre-arranged fresh cut flower category, the bundled packs of table centerpieces and arrangements are good options. They can be delivered to your doorstep in packs of 8, 16 or 24 pre-bunched centerpieces for special events. In addition for any of those seeking holiday wedding flowers, FiftyFlowers has an excellent selection.
Gold and silver could be tricky colors to find in flowers, yet they can be found by searching online. Those selections of tinted flowers can be an excellent accent to your arrangements. Baby's breath is one of the best options. There is a solid tinted Baby's breath and a glittery Baby's breath which can be a great seasonal filler flower for most arrangements. This flower also looks stunning by itself, or hung with holiday decorations and adornments. Thistle is another good choice available in silver and gold.
Natural garlands are also very popular this time of year. They can be decorated with flowers or ornaments and be placed near the fireplace, or any other focal place in your dwelling. Not only will these garlands add that special splash of color, but also a heavier texture and congeniality.
The holidays are an opportunity to bond with family and friends, and it is a happy time for DIY home decorators. Start with amazing, fresh wholesale flowers.
###