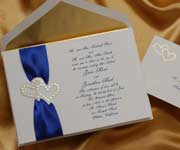 Our new designs come in both traditional and contemporary styles, so as to suit the taste of almost any customer.
Oak Hill, VA (PRWEB) January 25, 2012
The website, http://www.BeautifulWeddingInvitations.com is a newly reorganized website launched by Design Crafters. As the name suggests, this site provides different styles and designs of wedding cards online. Debby Sibert, the site owner says, "Our new designs come in both traditional and contemporary styles, so as to suit the taste of almost any customer." The wedding invitation cards can be customized online as well, making it an attractive proposition for the prospective couple and they come at very reasonable, competitive prices. Beautifulweddinginvitation.com also helps to plan the wedding event, providing guidance every step of the way, starting from invitations to wedding etiquette.
The wedding invitations can be previewed before placing the order at the site. The company also sends free samples to the customer before they place their order to check out the quality of the card stock used as well as th printing quality. They also ensure that the customer is satisfied before they charge for the order and will take back the order at their own expense if the invitations are not found to be up to the satisfaction of the customer. This guarantee is what makes BeautifulWeddingInvitations.com a unique and safe experience.
Contemporary designs come in various motifs, ranging from intertwined hearts to children's pictures (depicting "Today I'm marrying my best friend.") There is a wide range of different colored accents offered as well as many different fonts and font combinations from which to choose. All of this offers many ways to customize one's order. The customer can experiment with all theses colors, fonts etc. while previewing, and ensure the perfect wedding invitation card before finally placing an order. The wedding invitation cards can be proofed any number of times before the final order.
Contemporary designs on wedding invitation cards include the picture of the happy couple, intertwined hearts, photograph of cute children dressed up, embossed gazebo and many others. They come in embossed, pearl borders, and ribbon styles. Ribbons can be of satin or chiffon. The customer can individually choose any of these styles and colors.
The site also offers destination wedding invitations. These are wedding cards which are theme based, be it palm leaves or autumn colors or beach front. For the more romantic, there are cards available with theme of castle or a winter wonderland complete with snowflake motif.
With the company providing a step-by-step guide on how to order, it is easy. They do not charge the credit card until they are sure that the customer is satisfied with their order. After placing the order, it usually takes 2-3 business days to print and ship. International order are welcome.
http://www.BeautifulWeddingInvitations.com has been serving their local area since 1996 and the online community since 2004. They welcome any inquires regarding wedding invitation etiquette. Contact information can be found on the site. On the site, one can sign up for a free wedding planning guide. Just look for the link for "Free Stuff."
###