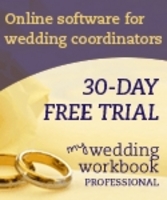 Consultants should stay tuned for more new features in the next 6 months, including an enhanced and fully customizable budgeting tool and a full accounting system complete with estimate and proposal creation tools
Denver, CO (Vocus) July 22, 2010
My Wedding Workbook Pro has recently launched all-new features - such as wedding websites for clients and an ideas and inspiration board - that provide wedding consultants with even more online tools to enhance their services and effortlessly collaborate with clients.
"Our system is the first comprehensive, Web-based wedding planner software that lets consultants securely manage all their clients and events online, and with these new features it is also the ultimate client collaboration and communication tool," said Jeff Kear, owner of My Wedding Workbook Pro.
Besides the existing tools that allow wedding consultants to track budgets, vendors, RSVPs, meal counts, seating arrangements, calendars/appointments and hundreds of other event-related details, My Wedding Workbook Pro's new tools offer consultants more options for managing and communicating with clients and include:

Wedding Website Builder with Online RSVP - Offer each of your clients their own customized wedding website, which allows them to share their stories in words and photos and even collect RSVPs online.
Ideas and Inspiration Board - Brainstorm and share ideas, notes, images, Web pages and more with your clients via this online interactive idea board.
Client Notes - Record notes for every conversation you have with clients and file them under your own categories, ensuring you and your staff are on the same page when it comes to your clients' wishes.
Wedding Day Itinerary - Build a customized itinerary for each client's wedding day that you can print out and share with staff, vendors and clients.
Suggested Tasks - Create a custom checklist for each client that lists tasks and to-dos for them; in addition, set email alerts to remind you and your clients of tasks and mark tasks as complete when they are finished.
Email Communications Center - Easily communicate with a client's guests via our bulk email tool that automatically pulls in guest email addresses from the client's guest list and allows you to create custom lists.
According to Kear, there's many more new features to come. "Consultants should stay tuned for more new features in the next 6 months, including an enhanced and fully customizable budgeting tool and a full accounting system complete with estimate and proposal creation tools," said Kear. "And we are always eager to hear feedback from our users so we can continue to develop tools that best meet their needs."
About My Wedding Workbook Pro
My Wedding Workbook Pro is the first comprehensive, Web-based event management and wedding planning software system for wedding consultants and venues that offers a new and better way to collaborate with clients online; manage events, clients and vendors; and expand the number of services you offer to clients. It offers added convenience over traditional software because it is completely online (requiring no downloads or installation); accessible anywhere, anytime, on any Web-enabled computer; and fully compatible with PCs, Macs and iPads.
# # #