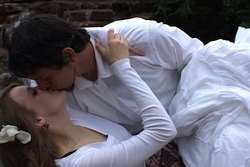 Don't be one of the brides that looks back and says, "I wish I had signed with MVP - my video was a disaster," or even more regrettably, "I should have gotten a video." MVP made it affordable so you won't have a regret.
Alvin, TX (PRWEB) July 14, 2010
Finding the right videographer is a daunting task. Finding the right videographer at an affordable price is almost impossible. In the wedding industry people do get what they pay for. A wedding day is too priceless to leave in the hands of amateurs or those claiming to offer professional services. What separates the pros from the rest of the pack is simple - high end equipment with the technical training to use it properly, years of experience, proven track record and unmatched creativity. MVP is known for their highly professional productions and quality customer service. Their new pricing structure is designed to make their services affordable to practically anyone.
Now through December 31, 2010 MVP is offering wedding video packages starting at $699. Visit their website at http://www.weddingvideographer1.com to see samples of the high quality work available to all clients under contract. It is an incredible value and makes having a keepsake completely affordable. The wedding video is as important as the wedding itself. The video is the only part of the entire event that will reflect exactly what happened in living sound and color. That is something that even the best photographer can not do. It provides a legacy as to what mother or grandmother was really like on her wedding day. "We love capturing the joy, the emotions, and the laughter in grand style." says MVP cofounder. "It truly is a 'must have' and we can provide it at below industry cost because at MVP, we believe that every couple should have a quality wedding video."
This is the first time MVP has made this offer and it is available for a limited time, on a first come first serve basis. MVP's motto for this campaign is don't be one of the brides that looks back and says, "I wish I had signed with MVP, my video was a disaster," or even more regrettably, "I should have gotten a video, because I don't remember hardly anything about my wedding. The day went so fast, it was a blur." For a limited time you can get MVP's affordable services.
MVP is offering a $100 discount for anyone that signs a contract as a result of their press release. Follow 3 steps to take advantage of this offer - 1. View MVP's website at http://www.weddingvideographer1.com. 2 Contact MVP through the website to set up your free video event planning consultation, 3. sign and return the contract that MVP will send after the consultation.
I'm watching the DVD now, it's the most amazing gift, I've ever received and I will treasure it for a lifetime. Your work is amazing!... Elise
We have enjoyed watching the video and reliving the memories. I will gladly refer you to anyone that's getting married. Thanks again!... Cindy
The DVD is Great! It was everything we wanted and more. Thank you so much.... Sharon
We loved our Video! We will be referring you to our friends and Family. Awesome Job!... Josie
About MVP Professional Productions - MVP is a visual production company with over 20 years of commercial broadcast experience. The owners of the company worked in the television and photography fields with combined experience of 40 years. MVP is a Houston videographer but they travel abroad for productions. They handle all lines of productions from commercials, television programming, educational and weddings and cruise events.
###