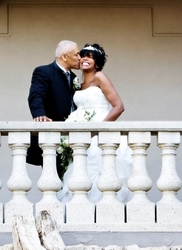 It is with no surprise that friends of EYM and local community businesses didn't hesitate in providing their support and services to help this amazing woman realize the dream wedding she envisioned and deserved
Los Angeles, CA (PRWEB) August 20, 2008
It was Sunday, August 10, 2008 at the First African Methodist Episcopal Church that Ms. Angeles Echols wed Mr. Richard Brown in front of over 250 family, friends, teachers and Educating Young Minds (EYM)students past and present followed by a spectacular yacht reception at sunset.
Ms. Echols has dedicated her life to creating and building Educating Young Minds the non-profit organization she started in her one bedroom apartment. Tutorial assistance that began in Angeles' one-room apartment with two children and $50.00 has blossomed into a multifaceted and diverse organization that has touched the lives of more than 2,500 students in grades K-12. Providing home study, after-school tutorial, SAT/ACT prep, college scholarships and laptops each year for EYM high-school graduates, Ms. Echols and her staff are determined to support, nurture and guide as many inner-city students as her space and staff will allow.
With Ms. Echols personal sacrifice and dedication to the community, EYM has blossomed into a 10,000 square feet of space on Wilshire Boulevard with second facility in South-Central California planned for 2009. Angeles' 5-year plan is to open 24 EYM centers nationwide accommodating 500 students per week, per site, with each EYM graduate receiving four-year collegiate scholarships. Ms. Echols is driven by an unquenchable thirst for knowledge that inspires her students and empowers her parents, molding urban youth, one graduate at a time.
"It is with no surprise that friends of EYM and local community businesses didn't hesitate in providing their support and services to help this amazing woman realize the dream wedding she envisioned and deserved," said Gavin Keilly CEO of GBK Productions and Weddings.
This special day for Angeles and Richard was brought to life by many individuals who were kind enough to give back to the woman who has spent her life giving to others including Scott and Michelle Ross, Cynthia Moore; Gavin Keilly, Carla Domen and Sally Steele at GBK Weddings who tirelessly planned and executed every event detail, Extensions Plus, Inc. - An Internationally recognized and respected name in the hair extension and wig industry, Victor Sizemore Photography, Elysium Productions, Casey Connors - top DJ at http://www.caseylive.com and Effusive Flowers.
As Angeles Echols continues to dedicate her life to Educating Young Minds one child at a time, she is happy to say with great big smile, "At last my love has come along" truly meaningful lyrics from the first song Angeles and Richard danced to as man and wife.
For more information on the great work Ms. Echols and her teaching staff are doing at Educating Young Minds visit http://www.educatingyoungminds.org.
###