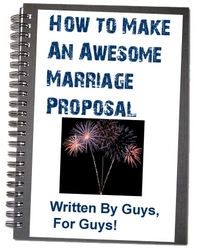 Our Marriage Proposal How-To Guide is perfect for the man looking to make a Valentine's Day marriage proposal. American men are creative, and American brides continue to be taken by surprise marriage proposals!
New York, NY (PRWEB) February 2, 2010
GroomGroove.com, the leading engagement and wedding website for men, announced the release of a book entitled "How To Make An Awesome Marriage Proposal: Get 'Fireworks' Without Actually Using Fireworks", for Valentine's Day 2010.
The book is the result of two separate marriage proposal story contests hosted by GroomGroove.com and sponsored by Gillette and Platinum Guild, that garnered over 1,400 user submissions.
"The guys at GroomGroove have years of experience helping men pop the question and prepare for their wedding and marriage. Men are in charge of the marriage proposal and purchasing the engagement ring, and our readers wanted additional guidance" said Aubree Wyatt Smith, Creative Director of GroomGroove.com.
Building on their successful books regarding the best man speech and wedding MC jokes, GroomGroove is a leader in the online wedding industry by offering paid content products. GroomGroove.com also recently published its best man speech book for the Amazon Kindle.
The marriage proposal book contains basic information on engagement rings and style choices, along with a dozen interesting marriage proposal stories, including two stories that won the marriage proposal story contests.
"Several hundred marriage proposal stories we received involved intriguing treasure hunts, airplane rides or sporting events. American men are creative, and American brides remain frequently taken by surprise!" said Michael Arnot, founder of GroomGroove, and co-author of the wedding proposal book.
The marriage proposal book is available for review, and the authors are available for interviews by contacting GroomGroove.com. Sales of the book are made online through GroomGroove.com, and retail for $9.95.
With a target audience of the best man, grooms and brides, GroomGroove.com has been widely-recognized for its contribution to modern weddings, having been featured in The New York Times, The Huffington Post and named a top 75 wedding website by Brides.com.
About GroomGroove.com
GroomGroove.com is a comprehensive online engagement and wedding information source for the best man. The website features information ranging from engagement information, to information about best man speeches and wedding planning. Launched in 2007 and edited by a team in New York, the site offers articles, lively comments, videos and a blog about weddings, all from the man's perspective.
Contact:
GroomGroove.com
Michael Arnot
212.518.4796
###