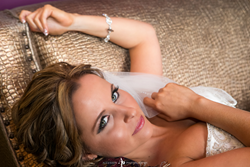 From the first image to the very last, the team at Allusion Photography never compromises on creating stunning images.
Chicago, Illinois (PRWEB) April 29, 2014
Whether they're trying to find the wedding dress salon with the best service in Philadelphia, the most creative wedding photographers in Los Angeles, New York's top cake bakers or Miami's hottest reception sites, engaged couples across the country want the inside scoop from real brides.
The Knot Wedding Network which is composed of the top two wedding websites, TheKnot.com and WeddingChannel.com, recently inducted Allusion Photography of Naperville, IL and Plainfield, IL to the first-of-its-kind wedding industry Hall of Fame for the all-time best wedding vendor across the United States.
This honorable list of more than 330 inductees includes less than 1 percent of wedding professionals.
"For the past seven years, WeddingChannel.com Reviews has been the definitive resource for our brides, providing them with unparalleled vendor recommendations directly from the tried-and-true experiences of fellow brides," said Carley Roney, cofounder of TheKnot.com. "We're beyond thrilled to induct our first-ever Hall of Fame, crowning the best of the best across the country, based on more than 700,000 reviews from real brides."
About Allusion Photography
Allusion Photography has been shooting weddings in the Chicagoland area for ten years. Owner Sherry Hagerman of Plainfield, IL has studied under the Nation's top wedding professionals since the beginning. Winning many awards such as "Best in the Midwest 2008-2014" and "Best In The United States" Allusion continues to stay on the cutting edge of wedding photography.
"Photographing a wedding is never about the process of the day – but rather appreciating the values and the new love that is before you. It truly is about capturing the passion, the feel and the first family memories that will set precedence for years to come. For every couple I tell a story-with a family, with a setting, with what they wear, and the love they surround themselves with. I want to reflect a feeling of romance and passion with a twist of art " says Sherry.
For more information CONTACT: Catherine Peska, catherine(at)allusionphotography(dot)com, 815-274-6766