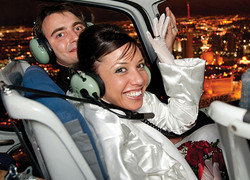 The Weddings Las Vegas Night Flight Helicopter Wedding is the ultimate Las Vegas Wedding experience!
Las Vegas, NV (PRWEB) July 14, 2010
Here's a way to have the most exciting up-in-the-air wedding experience in Las Vegas: The Weddings Las Vegas NIght Flight Helicopter Wedding above the Las Vegas Strip. This Night Flight Helicopter Wedding has room for the bride, groom, and up to three guests (plus the minister, of course), and is also very popular with couples wishing to renew their vows in an exciting, non-traditional way. Weddings Las Vegas also offers options available for photos and DVD.
This in-flight wedding includes round-trip limousine service between the couple's hotel and the helicopter terminal. They enjoy a celebratory champagne toast prior to departure and then lift off in their million-dollar "wedding chapel in the sky", a beautiful A-Star jet helicopter, which takes them above the lights of the Las Vegas Strip, downtown Las Vegas and Fremont Street.
At only $799, this wedding package includes the services of a private helicopter with room for 5, plus the minister, a 6" wedding cake and champagne, a 12-rose cascading bridal bouquet, a matching rose boutonniere for the groom, and round-trip limousine transportation. The price also includes all taxes and fees as well as the limo driver's gratuity.
A recent bride had this to say: "My husband and I had the Night Flight wedding over the Vegas Strip and we were beyond impressed with the quality of service we received. Our limo driver was professional, the flowers were gorgeous and the cake was beautiful. The view from the helicopter was amazing, the pilots were extremely polite and our minister was so friendly he put everyone at ease right away. Not knowing what you might get when booking your wedding on-line we were pleasantly surprised how smoothly everything went and would absolutely recommend your services to anyone thinking of marrying in Vegas."
Couples should allow two hours total time for this exciting wedding experience - hotel to hotel. These Night Flights commence about one hour after sunset, so the time changes throughout the year - from approx. 6:00 p.m. in winter, to approx. 9:00 p.m. in the summer.
Weddings Las Vegas is pleased to offer this Night Flight Wedding along with its other popular helicopter weddings: The Grand Canyon Dreams Helicopter Wedding, The Valley of Fire Helicopter Wedding, and the Grand Canyon Ranch Helicopter Wedding.
###