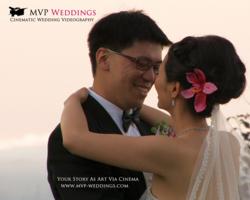 Fresno, CA (PRWEB) January 20, 2012
MVP Weddings, a company that specializes in cinematic wedding videography, will be one of the featured vendors at the Palatine Bridal Show. The Palatine Bridal Show will take place at the Palatine Building in Fresno, California on Sunday, January 29 from 11am to 3pm. The show is the Central Valley's only boutique bridal show and includes two fashion shows, featuring designers exclusively carried by Mia Bella Couture. Each of the vendors who participate in the show are invited in an effort to bring brides the best, most reputable designers in each of the facets of wedding services.
"We are honored to be chosen as a vendor for the Palatine Bridal Show," said Matt Martin, owner of MVP Weddings. "For each couple that we serve, we listen to their story and their desires for their wedding video. We use the arts of storytelling and cinematography to create a cinematic experience that doesn't just capture their day, it tells their love story and draws the viewer in to their relationship."
MVP Weddings will have a display table where couples can see cinematic wedding videos, sample chocolate, customize wedding package options, check availability for their wedding date, and reserve their date. In addition to demonstrating examples of their wedding videography, MVP Weddings will be shooting footage of the Bridal Show. Footage from the show floor, fashion shows, and bride and vendor interviews will be used to create a highlight video that will give future brides a taste of the event.
About MVP Weddings
MVP Weddings creates beautiful wedding videos for couples that tell their love story artistically through cinema. The company tells the story of who the couple is, how they fell in love, and the beauty of their relationship. They want couples to be exceedingly pleased with the result.
Matt and Susan Martin, the owners of MVP Weddings, moved to Fresno in 2011 and established MVP Weddings after eight years of digital video production experience in the San Francisco Bay Area. MVP Weddings provides wedding videography services throughout the Central Valley, Los Angeles, and San Francisco areas. MVP Weddings is available for destination weddings.
About The Palatine Bridal Show
Together with Fresno Magazine Bride & Groom, The Palatine Building brings you the Central Valley's only boutique bridal event, showcasing the newest and most chic ideas in every aspect of special event planning. Each of the vendors exhibiting are among the best and are included by invitation only - they have been selected for their reputable and artistic edge within their respective industries.
On all three levels of the Palatine building, we invite you to enjoy an exciting afternoon as you collect ideas and contacts to make your dream wedding come to life! Hors d'oeuvres & cocktails by Slates Restaurant, Door Prizes & Casino Game Prizes, Exclusive Fashion & Trunk Shows by Mia Bella Couture, Hair & Make Up Demos by Alchemy Salon with feature show specials by our vendors.
Presale tickets can be purchased now for $10. Tickets will be available the day of the event, Sunday, January 29, for $15 at the door. The Palatine Building is located at 7455 North Fresno Street, Fresno, California 93720.
###