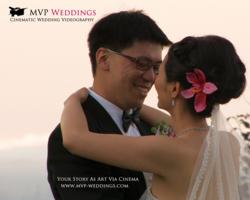 Fresno, CA (PRWEB) February 21, 2012
MVP Weddings, a company that specializes in cinematic wedding videography, will be one of the featured vendors at the International Wedding Festival. The International Wedding Festival will take place at the Convention Center in Fresno, California on Sunday, February 26 from 11am to 4pm. The festival is designed to provide engaged couples with a collection of the central valley's most elite wedding service providers under one roof. It includes a high energy fashion show with the latest designs and each bride who participates in the festival will receive $1,000 in "Bridal Bucks" which can be redeemed with more than 60 different vendors at the show.
"We are very excited to be part of the International Wedding Festival," said Matt Martin, owner of MVP Weddings. "We love to meet couples and hear their stories. For each couple that we serve, we listen to their story and their desires for their wedding video. We use the art of storytelling, cinematography, and editing to create a cinematic experience that doesn't just capture their day, it tells their love story and draws the viewer in to their relationship. We create a cinematic experience that is more like a feature film than a traditional wedding video."
MVP Weddings will have a display booth where couples can see cinematic wedding videos, sample chocolate, customize wedding package options, check availability for their wedding date, and reserve their date. In addition to demonstrating examples of their wedding videography, MVP Weddings will be accepting $200 in Bridal Bucks towards wedding video packages. This show discount will be in addition to other discounts the vendor already makes available.
About MVP Weddings
MVP Weddings creates beautiful wedding videos for couples that tell their love story artistically through cinema. The company tells the story of who the couple is, how they fell in love, and the beauty of their relationship. The result is more like a feature film than a traditional wedding video.
Matt and Susan Martin, the owners of MVP Weddings, moved to Fresno in 2011 and established MVP Weddings after eight years of digital video production experience in the San Francisco Bay Area. MVP Weddings provides wedding videography services throughout the Central Valley, Los Angeles, and San Francisco areas. MVP Weddings is available for destination weddings.
About The International Wedding Festival
The International Wedding Festival is a bridal show that will be taking place Sunday, February 26, 2012, from 11am-4pm at the Fresno Convention Center. Under one roof, brides will find rows and rows of the Central Valley's most elite talent for their special day. Brides can find photographers, DJ's, Limos, Event Planners, Florists, Videographers, Bakeries, Honeymoons, and hundreds of ideas!
Brides will receive $1000 Bridal Bucks upon entry to the Bridal Show to spend on the things that they need most for their wedding. The International Wedding Festival will be giving away $250,000 Bridal Bucks at the show. Brides will be privy to a fantastic fashion show while they view the hottest trends of 2012. The fashion show will feature music and entertainment by Sound Express and the AMPED Entertainment dancers for the best fashion show ever! Bridal gowns, tuxedos, mother of the bride, bridesmaid dresses, flower girl dress, and more will hit the runway so that they can wrap up all of their wedding party attire needs.
The International Wedding Festival will sponsor the third annual Grab The Gown event at this show. Brides will find wedding dresses for as little as $50! All gowns are $50-$599 and these are new gowns! These are not rentals.
Schedule:
10:30am Show Registration Begins
11:00am Event Doors Open
2:45pm Fashion Show and Grand Prize Giveaways
4pm Event Ends
Presale tickets can be purchased now for $13. Tickets will be available the day of the event, Sunday, February 26, for $15 at the door. The Fresno Convention Center is located at 700 M Street, Fresno, California 93721.
###