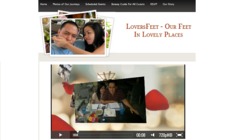 http://padebuen.com waives the $300 fee of the wedding website creation service plus 1 beautiful video.
(PRWEB) April 06, 2012
A couple will always cherish their wedding day. They share this memorable event with their family and dear ones. For a lot of women, the preparations began even before the couple's marriage commitment. There is also a lot of demand for wedding websites since it will help couples let the world know details of their wedding and their preparations. Couples can also have a striking website that they can show off. A new wedding website creation service from http://padebuen.com is now available.
The new wedding website service, with more information at padebuen.com, aims to provide couples a cheap and reliable way to have their own beautiful wedding website. They also create videos that are professional and stunning. They turn video clips, music, and photos into beautiful video masterpieces that they can share with the world. Video styles are also creative, elegant, and ideal for showcasing wedding details. The videos are available at different resolutions - 360p, 480p, and 720p HD. The free video that is inclusive in the wedding website creation service is in 360p resolution, which is ideal for sharing in social media sites and the web.
A sample wedding site with video can be viewed at http://loversfeet.com.
The wedding website creation service inclusive of 1 beautiful video is available for $300. Padebuen.com waives the $300 fee of the wedding website creation service plus 1 beautiful video only if clients sign-up for a hosting package from their trusted and reliable provider. This promotion is only available for the first 50 clients.
More details and updates are available at http://padebuen.com/services/custom-wedding-website-creation/.
About Padebuen.com:
Padebuen.com is a brand new website that aims to provide reliable custom web services to offline clients. The owner is also getting married this 2012, so he is passionate in providing couples the best wedding website.