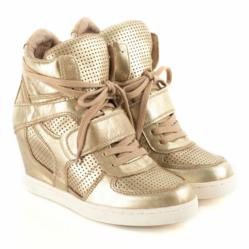 A big part of the sports luxe trend look is wedge trainers.
(PRWEB UK) 14 June 2013
Summer is finally here, but customers of Daniel Footwear aren't yet ready to hang up this season's 'must have' wedge trainers the mainstay of the Spring/Summer sports luxe trend.
As a legacy from last year's summer of Olympics, the sports luxe celebrity trend has continued from the catwalk to the high street combining sportswear with luxury and nowhere is this more apparent than the stylish footwear fusion of trainers and heels inspired by French designer Isabel Marant.
Independent retailer since 1993, Daniel Footwear has over 30 stores in the UK and an award winning ecommerce site which is home to the latest fashion statements from chic bags to fashionable footwear and accessories; the unique Italian Daniel brand epitomises style through its extensive range nestling alongside well known brands such as DKNY, Juice Couture, Ash, Love from Australia, UGG, Tory Curch, Hunter, Michael Kors, Melissa, Vivienne Westwood and many more.
Jessica Hodkinson of Daniel Footwear said: "The sports luxe celebrity trend has been incredibly popular this season and a big part of that look is wedge trainers. All brands of our wedge trainers have sold well including our own Daniel brand wedge high top trainer, Ash wedge high top trainer, Michael Kors high top trainer and the DKNY wedge trainer.
"The versatility of the trainers, combined with their stylish looks have added to their popularity, as well as this it's a well known fact that many women like to have a heel, so the concealed wedge heel in these type of trainers is very appealing, giving discrete height that many women love."
The popularity of the wedge trainers has increased in appeal with well known celebrities such as Pippa Middleton seen recently teaming skinny jeans with high top wedge trainers for a very sophisticated look that's right on trend.
"Fashion comes and goes and nowhere is this more apparent than in footwear; the success of the wedge trainers looks set to be here throughout the summer. This, combined with our high quality range at competitive prices, makes a browse through our website or one of our 30 stores well worth it," concludes Jessica.
For more information on wedge trainers and any other designer footwear, bags and accessories, visit http://www.danielfootwear.com.